All of the ships I have built to date have been meant to sail on the water. I dislike seeing a boat plying the water with no crew—a "ghost boat." With people aboard the boat looks so much more realistic. With a search on the Internet one can find a suitable crew in just about any scale, although it may take some looking. And once in your shop they may require painting. A couple examples below show what can be done.
My latest project is the OcCre "Ulises" tugboat in 1/30 scale. I searched a long time but finally found this crew of early 20th century merchant seaman in 1/32 scale (close enough) on the Shapeways site. They were laser printed in white plastic resin and required painting. Although I am 79 years old my hands are still pretty steady, so I completed the job using Model Master enamels and acryl paints. A crew for just about any scale, type, or vintage boat can be found on the Shapeways site.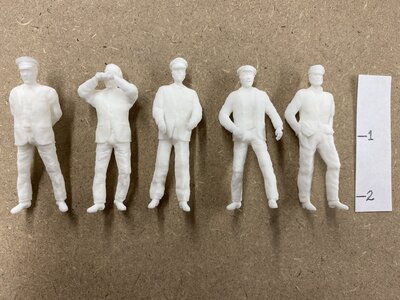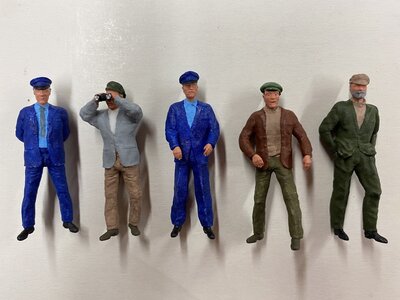 Mt. Washington plied the waters of Lake Winnipesaukee in Vermont USA for almost 70 years. This is the Dumas model of this boat. How much better it looks sailing on a typical excursion with people aboard! Unfortunately, I don't remember where I bought the little people. They came in a bag of about 75, but were sloppily painted and I had to touch up each one, some in a major way.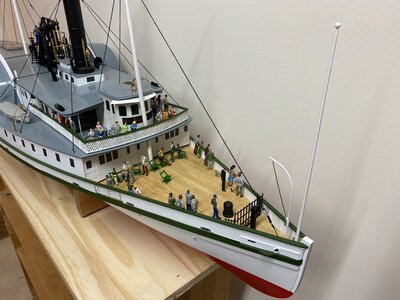 Another Dumas model, this is the SC-1 Class Subchaser from WW I. This 1/35 laser-printed crew also was purchased from Shapeways and required painting. There are five deck hands althogether. The boat now looks ready to sail in search of German U-boats.