Joined

Oct 30, 2019
Messages

186
Points

213
Location
Book Review:
"Introduction al Modelismo de Arsenal" by Adrian Sorolla Spanish version, ANCRE Publications, Nice France .
www.ancre.fr
Title translation (loose): Introduction to Admiralty-style modeling
The book is also available in French: " Introduction au Modelisme d'Arsenal." and in Italian, but no English version yet.
The book is basically a very well illustrated step by step build guide of the gaff-rigged, coastal cargo cutter (1 mast, 2+ headsails)
Le Rochefort.
Based on ANCRE's 36 page monograph and plans (16 sheets) 1:36 scale: "Le Rochefort 1787 Les Yachts de Port"
These shallow-draft river boats sailing from the Charente estuary were used to supply French Navy ships anchored 20 km down river off the deep-water port of Rochefort.
Now for the specifics: Although I am fluent in Spanish, and can read French and Italian, the Spanish nomenclature is completely different from anything in English-not even a direct translation works well. For example "frame" in English would be translated as "marco" but in Spanish ship terminology frame is "cuaderna" and so on. The same holds in French.
The main utility of this book is in the photographs and step-by step instructions, and the different building rigs used by the author. It would be best if there was an English translation using English ship terminology, but never the less, II find it very useful.
COVER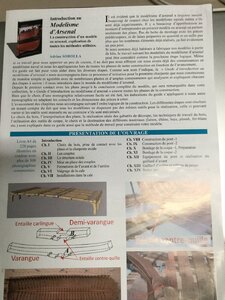 ANCRE NEWSLETTER CATALOGUE DESCRIPTION