Greetings one and all.
I'm building a 74 from scratch. It falls into the impressionist school of modelling.
I haven't got much in the way of money, tools or resources so I've been using anything I can lay my hands on. The most I've spent has been on CA glue and cannon.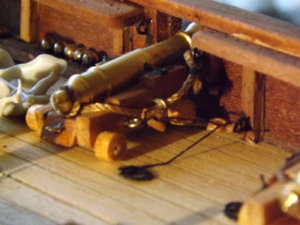 Question:
Given no clever tools, anyone got any ideas how to make anchor flukes? I've got one as a template and I need four. I've tried wood and plastic and they just don't look right ....
.... so now I'm considering trashing the kitchen with an attempt at moulding them with resin using a seaweed based moulding material.
I could bite the bullet and splash out and just buy some but there is now a principle at stake. Any ideas? Please??
Thank you
Steve