Administrative
Staff member
Administrative
Joined

Dec 25, 2017
Messages

12,330
Points

928

Location
Some days ago I received my new "tool-toy". It is the Jet JBOS-5 Spindle sander.
In the following I want to show you this interesting tool, today the important figures and the delivered content
and in the following some experience using this tool during my built of the La Salamandre
It is a versatile table sander with oscillating bobbin / spindle.
Fully tilting table, cast iron, which can be
tilted up to 45°
Toral weight of sander plus spindles is
35 kg
, so realy heavy.
supplied with the biggest spindle of
50 mm, 38 mm, 16mm, 12 mm
and the smallest one with only
6mm
, heigth is 15 cm
-> This flexibility and the possibility of such small diameters was the main point, why I choosed this sander.
A 76 mm spindle is available from Jet, but not included in the basic deal.
The oscillation is 22 mm, so reduction of the friction heat to protect wood and prolong the sleeve life. 30 oscillations per min.
I have the 230V version, but there is also a 110 V version available.
Table height is 47 cm, table size is 37 by 37 cm
There are 4 changing inlets for the table, depending on the size of spindle and the tilting angle of the table.
All the spindles and the inserts can be stored on the sides of the sander.
And the sander is very silent, another reason for choosing this sander.
The tool is standing on four non-skid rubber feet, keeping the mashine stable with very small vivrations.
Now the first photos of the unpacking....a little bit like Christmas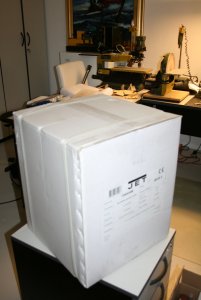 The complete content of the sander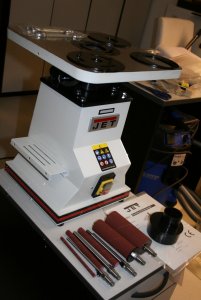 The five spindles with the different sizes
The four different table inserts