Staff member
Forum Moderator
Joined

Jul 15, 2013
Messages

1,540
Points

538

Location
Hi All
The Twelve Apostles was a 120 gun Russian ship of the line launched in 1847.I will not delve into her history,that will be covered when I eventually start a build log.This is being put in the stash for the foreseeable as I have plenty of current projects on the go.
I have recently received this complete partwork.This was offered in 120 weekly parts.In addition,there were 40 additional parts as a continuation to build a 1/48 scale sectional model of Twelve Apostles.I have not bought the additional parts and have yet to see the cross section up for sale.
This Partwork,to my knowledge was only ever released in Italy,Russia and Poland.I have bought the complete collection from a seller on Ebay based in Poland.Interestingly my example is an Italian release.Due to the countries of release,English instructions were never printed for this model.
The finished model,despite the smaller scale works out at;
Length 111cm
Width 45cm
Height 75cm
Also included are individual plank on frame kits(not cast metal) for 7 ships boats!!A full set of 14 sails is also included
I have read that this partwork is based on a recent model of the ship by a prominent Russian modeller.The model now resides in the Naval Museum in St Petersburg.All marketing pictures were of this model,not the complete partwork.The difference with this compared to the Sovereign of the Seas,is that this builds into a model with close resemblance to the marketing pictures.
I have also read that Alexey Banarov was technical advisor on the development of this partwork.How true that is I don't know,but given the high level of photoetch and tiny detailed castings,this would not come as a surprise.
Part One:Instructions
As I have just stated,English instructions were never produced.The instructions are included in each weekly part.There are many step by step instructions with photographs of the actual model.This is very much standard Artesania Latina fair(the manufacturer of this partwork).There is no full size plan of the model,with dimensions illustrated in the photographic steps.What is different to normal Artesania instructions is the depth as which they go in to.We have 120 issues with 6 pages of instructions in each.This is equivalent to a 720 page instruction manual!The intention is that,as with all partworks,that this model can be built by a complete novice.To be honest,I beg to differ on this one.This is a VERY complex and detailed model.
I have taken some sample pictures of the instructions.
Kind Regards
Nigel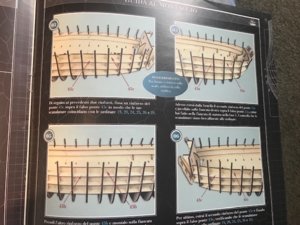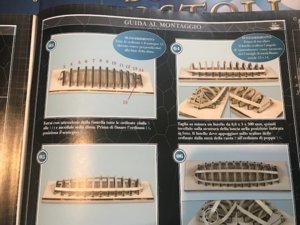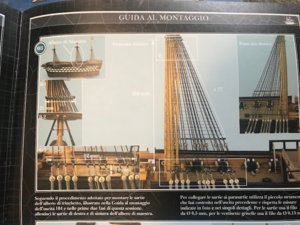 Last edited: