Moderator
Staff member
Moderator
Joined

Jul 30, 2017
Messages

1,609
Points

478

Location
G'day all
As most of you may know, last October my wife and I moved into our new home, which had 3 garages. It was one of the selling point to buy this house for me.
But I wasn't talking into the account that the 3 metal panel lift garage doors are in the direct sun light in the afternoon.
the sun starting to heat up the door about 11.30am and by 1pm the whole garage doors are in the direct light.
Behind the single garage on the right is my working zone. I am very pleased to have a large area as my 'playground'.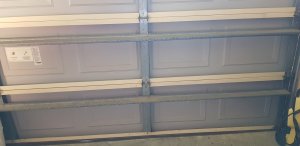 While the inside gets hotter and hotter.
So after 1pm the
sun turns the garage doors into a sweat box with the doors acting as a heater
.
Even though I got insulation, a R4.6 wool polyester blend in the ceiling,
the garage in the afternoon could reach 45°C plus
. It's too hot to do any work and unfortunately that's is the majority of the time I'm allowed to my build. My wife would like some work around the house done, first before any playtime.
I had an idea that is what this post is about. I had one bundle of bats in the garden shed, so today.
I spit each bat down to make two.
I placed the thinner bats in the grove sections of each panels.
Squeezing the bats under the framework of the garage doors
The result is quite good to look at, but the temperature in
the garage now is a pleasant 23°C.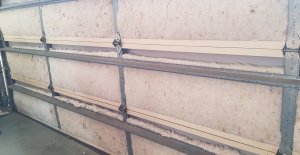 The garage door open with ease and the extra weight wasn't a problem.
The reason why this log is posted on SOS, I would assume there are other members who were in the same situation, and
they might get some idea to fix their work are
a.
Havagooday and happymodeling to all
Greg