Staff member
Forum Moderator
Joined

Sep 10, 2017
Messages

2,428
Points

628

Location
Yesterday I fulfilled a long lasting wish. We visited maritime artist Jan de Quelery for buying an oil painting of a 17th century ship.
Jan is de Willem van de Velde of the 21st century. He is painting mainly 19th and 17th century ships in oil paint and aquarel.
He is famous for his 17th century sea battles which he paints at 2,5 mtr x 1,5 mtr. These go to museums etc.
He painted many of the Dutch Anglo sea battles but currently he is working on the battle at the Etna of the Dutch against the French.
We were privileged to join him to his workshop to see this work of art in progress which he just started. Below you see this work with Jan in front of it. On the left the Dutch fleet and on the right the French. First a drawing is made which is painted over with oil paint afterwards. A painting of this size takes Jan two years of work fulltime.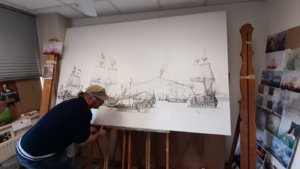 Two of the finished works, still for sale.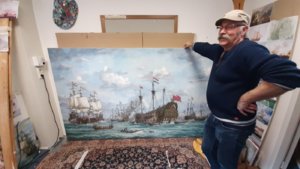 And a detail, these paintings are so detailed that they are painted with a magnifying glass in his hand. See a detail below.
These masterpieces are unfortunately out of my budget so I went for a smaller work and made a selection out of these three works of art in oil paint.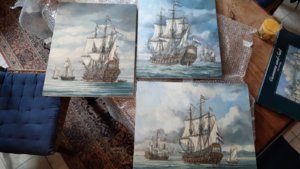 Finally I selected this one which is now being framed, if I picked it up from Jan I will post more detailed pictures.
As Jan has so much beautiful works we also bought two aquarels. Like a kid in a candy store we had to choose again.
These are the selected two aquarels for in our refurbished hall.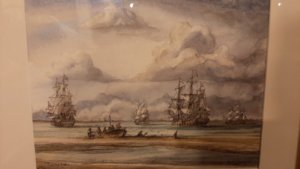 Again beautifully detailed.
Last edited: