Joined

Oct 17, 2017
Messages

26
Points

48

A 19th Century ship that was prominent with coastal shipping along the western coast of Norway was the Nordlsandsjekt. A Jekt was built and used along the coast of
Norway
from
Nord-Troms
to
Hardanger
from the
Middle Ages
up to the 1900s. They were first used in the Viking age. The earlier types used clinker style construction and were used until its use became even more widespread, when in 1294 the legislature prohibited foreigners from sailing north of Bergen to trade. Then in 1381 a royal decree determined that "
wealthy
peasants" could not have or sail overseas with cargo boats larger than four loads, giving a cargo capacity of 48
barrels
or around 5.6 tons .
This had the effect of causing a great deal of shipping traffic along the coast, bringing fish from the North to Hardanger and returning to the North with supplies needed from the South. By the 19th Century, a significant evolution in the design of jekt that even a glance at its design reveals a vessel of high durability and that lends itself to some hard usage under a wide range of weather conditions.
From the 19th century until early in the 20th century, when steam ships came along, the Nordlandsjekt evolved into a design that to me is quite unique. It had a very wide hull and a short prow, which makes it look not unlike a pit bull
This kit is from Wisloff, a developer and manufacturer of kits that tragically burned to the ground in 2015. Mr. Wisloff has had a very limited Internet presence since that tragic circumstance and I hope he can be encouraged to allow his designs to be produced by some other manufacturer. Before they basically disappeared from the market, I have been able to obtain a few of the kits,: Olselver, a river boat with a very endearing design, The present project, Nordlandsjekt, a Norddlandsbaten that resembles a Viking ship, which Virtakuono Is doing a build of here on this site, as well as Froya, a ship used during WW II to outrun the Nazis in the North Atlantic. That part of the Norway conflict didn't go too well for the Nazis. I will add to this as I can. I have pics of early hull construction and some that give some overview of the design.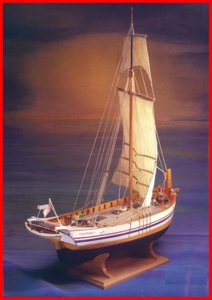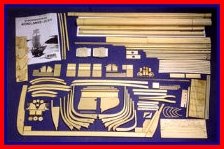 This is a picture from the kit and its contents. Basic sail layout, with one mast without stays. The skiff looks like it is fun to build and the hull construction allows for good precision as the kit is designed.