Administrator
Staff member
Administrator
Joined

Dec 25, 2017
Messages

22,194
Points

1,038

Location
Period Ship - Kit Builder's Manual
by Keith Julier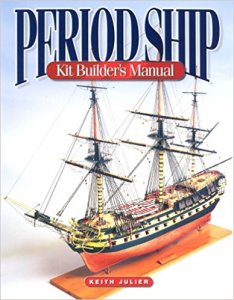 Paperback: 142 pages
Publisher: Special Interest Model Books (27 Nov. 2003)
Language: English
Product Dimensions: 22.1 x 1 x 27.6 cm
Prices between 10 to 15 US$ at amazon, abebooks etc.

Synopsis:
A practical manual for marine model makers who choose to build their historic model ships using a kit. Beginners and intermediate modellers are particularly catered for, but older hands will also find much of interest. From the moment the first thought is given about making a model ship, this book takes the builder through all the various stages of the project, from kit selection through construction; the pitfalls and how to avoid them. Much of the myth and mystery is taken out from what many consider to be a tricky subject, and the language and terminology is simple and explanatory throughout. 100 photographs support important steps in the text and these will provide the model maker with the encouragement to go on and enjoy the construction of a wide range of period ship models.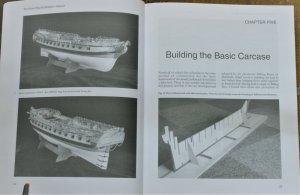 Contents:
1) Choosing your kit
2) The Consumables - Adhesives, Finishes, Fixings
3) Tools - Maintenance, Safetly
4) Getting your Act together - Research, History, Accuracy
5) Building the basic Carcase - Practical Hints and tips
6) Hull Planking - Fixing, Tapering, Bending, Coppering
7) Deck Planking - Caulking, Preparation, Application
8) Wales and rails
9) The Stern & Quarter Galleries - Alignment, Glazing
10) Gun Ports - Cutting, Lining
11) Fitting Out - List and description of deck and hull fittings
12) Guns - Mounting, Rigging
13) Ship´s Boats - General Construction Notes
14) Masts and Bowsprit - Tapering Techniques, Squaring, Tops
15) Yards and Spars - Tapering, Cleats, Footropes and Stirrups
16) Sails - Preparation, Seams, Bolt ropes
17) General Rigging Notes - Knots, Tying blocks and Deadeyes
18) Standing Rigging - Shrouds, Stays
19) Running Rigging - Assembling yards
20) Where kits come from - Major manufacturers and a selection of their products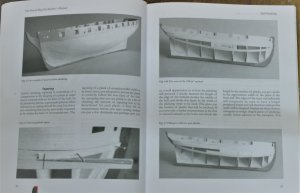 Review:
Review on amazon in 2004:
Every aspiring period ship modeller should own this book. It contains a wealth of information that makes it an indispensable reference work.
The emphasis is very much on how to do things and problem solving, often using different approaches to the same problem. Whilst the author presents solutions he also positively encourages experimentation and innovation, stressing there is no right or wrong way. A wealth of diagrams and photographs provide ample visual examples.
Some of the material in this book appears to be recycled from the author's other works but it's none the worse for that as this book is set out more logically, making it easier to follow and quickly find exactly what you're looking for.
This work should inspire confidence and revive interest in the hobbly in al who read it. It certainly made me want to start another model straight away.
But, unfortunately the quality of the photos and the print is not the best.
The book is a very good start for the beginner of kit modeling, to get into the basics of this kind of medeling, but also the experienced will get some additional information. Recommended.