A couple of months ago I decided to get a start back into this hobby. I've built models occasionally over the years but nothing to major. After seeing the trumpeter kit of titanic, I couldn't resist and it got me excited to build again.
I built this kit basically straight out of the box with additions to railings and rigging not provided. Trumpeter have now released an update of a wooden deck and extra PE parts which I didn't buy as the original kit itself was quite hefty in price. The kit has amazing quality as it is and to be honest with the large amount of PE already included it's a shame the upgrade kit isn't included as standard even without a wooden deck.
This kit includes led lighting which I wasn't interested in using as they also suggest placing large bulbs onto the top of the boat deck to mimic the upper deck lighting... unfortunately the bulbs look very much ungainly so I opted to built her without the lights. Other than that the kit is rather impressive! Very clean moldings as you'd expect for such an expendable modern plastic kit. You could go crazy with the detail though 1/200 for me is just a touch small to work on, so I'm happy with my representation of her.
Anyway, enough if that, I hope you enjoy the pictures.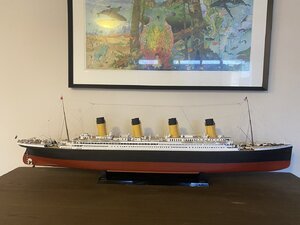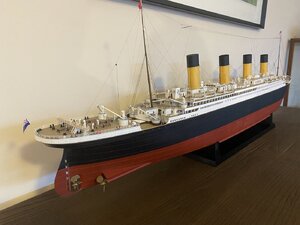 Last edited by a moderator: