Administrator
Staff member
Administrator
Joined

Dec 25, 2017
Messages

22,194
Points

1,038

Location
An other cornerstone in each private library describing the mast, spars and the complex rigging work should be
The Masting and Rigging of English Ships of War, 1625-1860
By
James Lees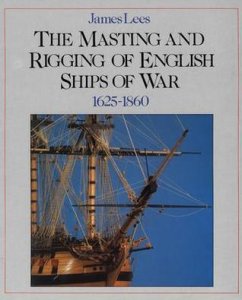 Publisher:
Naval Institute Press; 2nd Rev edition (October 1984)
Pages:
212
ISBN-10:
0870219480
ISBN-13:
978-0870219481
Product Dimensions:
11.9 x 10 x 1 inches
Shipping Weight:
3.41 pounds
or
Publisher:
Conway Maritime; Rev Ed edition (June 20, 2001)
Pages:
212
ISBN-10:
0851772900
ISBN-13:
978-0851772905
Product Dimensions:
11.6 x 9.9 x 0.9 inches
Shipping Weight:
3.44 pounds
About the Author James Lees:
This book marked the culmination for Jim Lees of fifteen years dedication to the subject. Born in 1924 Mr. Lees had seatime around the world with destroyers in the Royal Navy and in tankers with the Merchant Navy before joining the
National Maritime Museum
.
As the Museum´s Senior Conservation Officer, he was responsible for the restoration, care and maintenance of what is perhaps the most valuable, extensive and accurately-made collection of ship models in the world. He retired in 1984.
https://en.wikipedia.org/wiki/James_Lees
Synopsis:
When this book was first published in 1979 it was immediately recognized as the standard work on the evolution of rigging, mast making and sail making. More than ten years later it remains the most comprehensive and informative work on the subject.
The author himself wrote of the genesis of his book "As the rigging of contemporary models deteriorated over the years and so few untouched models were still in existence, I felt that a book covering the various changes in rigging was a necessity to prevent the historical data from disappearing. This book was therefore compiled over some ten years from information obtained from contemporary manuscripts, books, models, etc. in the archives of the National Maritime Museum."
"By use of this book it will now be possible for model craftsman throughout the world, in the present and future, to restore or make models correctly according to the historical features of the various periods. It will also assist restorers of maritime paintings in the difficult task of replacing obliterated rigging, as well as providing a handbook of technical information for the maritime and war historian."
Organized for easy reference this book has over 540 line drawings and 100 photographs and is complete a documentation of the subject as could be desired.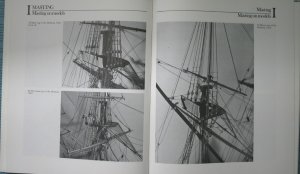 CONTENT
I MASTING (pages 2 to 39)
1 Masts, bowsprit and jibboom
2 Yards, gaffs and booms
3 Tops, caps and trucks
4 Ancillary spars and equipment
II RIGGING (pages 40 to 133)
5 Lower masts, bowsprit and jibbooms
6 Topmasts
7 Topgallant and royal masts
8 Lower yards and sails
9 Topsail yards and sails
10 Topgallant and royal yards and sails
11 Sprit and sprit topsail yards and sails
12 Mizzen yards and sails
13 Stunsail yards, booms and sails
14 The staysails and jibsails
15 Miscellaneous ropes
III SAILMAKING (pages 134 to 157)
16 Square sails
17 Fore and aft sails
IV SEAMANSHIP (pages 158 to 182)
18 Order of dressing the masts and yards
19 Ropework, blocks and other tackle
20 Belaying
Appendix I: proportion of masts, spars and rigging (pages 183 to 190)
Appendix II: tables of mast and spar dimensions (pages 191 to 206)
Index
Review
A detailed review I found which is describing the book very well:
Every mast, spar, rope, block, tackle, sail, and virtually every knot is described in detail. How practices changed and developed over time is covered comprehensively. Diagrams are first rate.
The language is technical and terse and some knowledge of the subject is assumed, as terms are not explained. It is not a book that a layman would buy for a good bedtime read. It is a reference book for someone who needs to have in-depth information on the subject, and in this respect it is superb.
On the down side, it deals only with British practice, and
only with square-rigged ships
, but then that is the remit of the title.
As a reference tool it is a must for anyone wanting to be as accurate as possibe when rigging a model. The book is a very good reference to find correct belaying points, sequence for attachment of standing and running rigging or clear indications of the correct block to use. This book helps fill that gap, but it also gives the reader a good idea of how much more there is to know to be really good at this hobby.
Relatively easy to understand, this is the standard contemporary reference for anyone involved with historical research and/or modeling.
Nevertheless it is already some years old, so not fency, but a very good reference.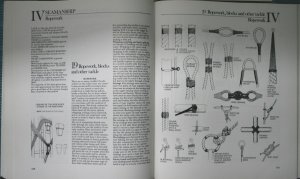 Resumee:
James Lees book is a
standard contemporary reference
and is be a big help for adjustments and accurate rigging of English ships of different periods.
For kit-and also scratch built model-maker.