Completed build of Titanic which took about two months. I purchased an aquarium for $20.00 from Pet Smart and built an oak frame to finish it..
The LED lighting which was included in the parts was used for the interior of the ship, and I added an additional LED string which is attached to the top of the cover and illuminates the model. The iceberg is made from styrofoam, painted with Mod Podge. The backdrop is a flat, black poster board from Michaels and using an old toothbrush, splattered with flat white paint to create the stars.
Unfortunately, the glare from the light coming in from a window somewhat distorts some of the photos.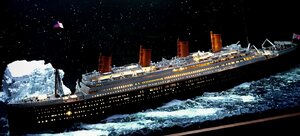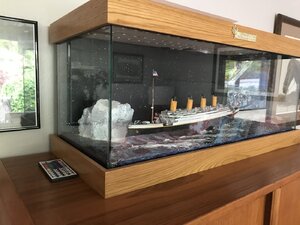 Last edited by a moderator: