Staff member
Forum Moderator
Joined

Sep 10, 2017
Messages

2,464
Points

628

Location
During my visit to Stockholm some weeks ago I had to bore my wife with a 7 hours visit to the Vasa museum on Thursday. Luckily the ticket is valid for 30 days, so before we had to catch our evening flight to Amsterdam i had another 4 hours in the museum. I made a lot of pictures from constructions that attracted my attention.
Planks vs wales. Normally in my models the wales I connect with a 3:1 height length diagonal connection and the hull planks with a blund connection but in vasa all planks and wales have a diagonal wood connection with is fluctuating in ratio.
A normal wood connection in a wale.
The same type of diagonal connection in a normal hull plank below a gun port.
Normally I always try to get my bolts and wooden dowels neatly drilled all in the same direction and slightly diagonal but on vasa they are every where.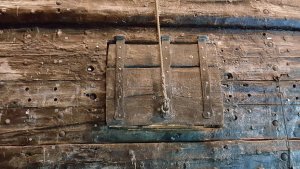 Normally I spread my plank connections so there are always some planks in between the connection. In vasa they are very close to each other in some places. See below
And again one ate ratio 3:1 and the other 5:1.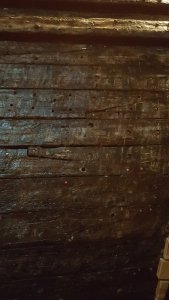 There are no blund plank connections on vasa, they are all diagonal, generally in a 3:1 ratio but also much longer, see picture below.
In the bow section the planks are mounted in the Dutch methode as it was a ship build by a Dutch master.
Never end a plank with a pointed end because then it will rot much quicker. See below. In the bow of vasa several sharp pointed ends in a plank.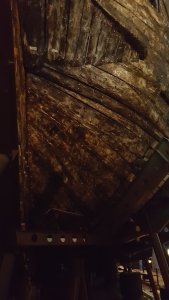 Next time some more pictures. I have over 600
.