Administrator
Staff member
Administrator
Joined

Dec 25, 2017
Messages

24,283
Points

1,038

Location
Book Review:
VERSAILLES DER MEERE
Die barocken Segelschiffe Ludwigs XIV. im Kontext ihrer Zeit
by
Bernd Monath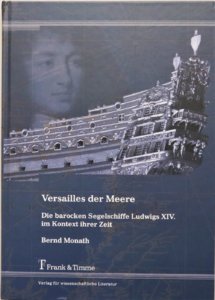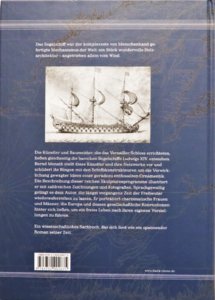 Gebundene Ausgabe: 328 Seiten
Verlag: Frank & Timme (1. September 2016)
Sprache: Deutsch
ISBN-10: 3732902676
ISBN-13: 978-3732902675
Größe und/oder Gewicht: 21,5 x 2,1 x 30,2 cm
SYNOPSIS:


english:
The sailing ship was the most complex, man-made mechanism in the world: a piece of wonderful wooden architecture - powered solely by the wind.
The artists and builders who built the Palace of Versailles also created the baroque sailing ships of Louis XIV. Bernd Monath introduces these artists and their networks and describes their struggle with the ship designers for the realization of daring ideas of an almost unleashed ornamentation. He illustrates the description of these rich sculpture programs with numerous drawings and photographs. The author succeeds in linguistically resurrecting the long ago past of the privateers. He portrays charismatic women and men who left Europe and its social conventions behind in order to live a free life according to their own ideas.
A scientific non-fiction book that reads like an exciting novel of its time.
german:
Das Segelschiff war der komplexeste, von Menschenhand gefertigte Mechanismus der Welt: ein Stück wundervolle Holzarchitektur – angetrieben allein vom Wind.
Die Künstler und Baumeister, die das Versailler Schloss errichteten, ließen gleichzeitig die barocken Segelschiffe Ludwigs XIV. entstehen. Bernd Monath stellt diese Künstler und ihre Netzwerke vor und schildert ihr Ringen mit den Schiffskonstrukteuren um die Verwirklichung gewagter Ideen einer geradezu entfesselten Ornamentik. Die Beschreibung dieser reichen Skulpturenprogramme illustriert er mit zahlreichen Zeichnungen und Fotografien. Sprachgewaltig gelingt es dem Autor, die längst vergangene Zeit der Freibeuter wieder auferstehen zu lassen. Er porträtiert charismatische Frauen und Männer, die Europa und dessen gesellschaftliche Konventionen hinter sich ließen, um ein freies Leben nach ihren eigenen Vorstellungen zu führen.
Ein wissenschaftliches Sachbuch, das sich liest wie ein spannender Roman seiner Zeit.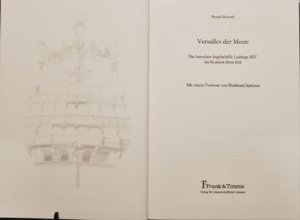 About the author:
Bernd Monath was born in Bad Kreuznach in 1960. He has worked in project management since completing his degree in structural engineering.
The maritime background of his ancestors obviously rubbed off on him, because throughout his life he was interested in historical sailing ships in connection with their art-historical aspects, which inevitably led him to the era of Louis XIV. For several years, he researched meticulously in various contemporary sources and documents in order to acquire extensive specialist knowledge. In the course of time the idea matured in him to write his own book on this topic.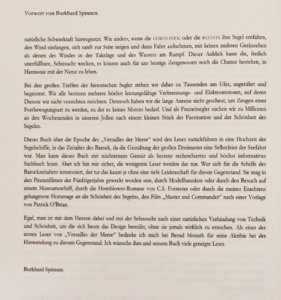 Vorwort by Burkhard Spinnen
CONTENTS:
1 Die sozialen und politischen Verhältnisse in Europa während des 17. Jahrhunderts
2 Die kolonialen Machtverhältnisse im 17. Jahrhundert
3 Die Freibeuterei als einträgliches Geschäft
4 Die Veränderung von Frankreichs Staatsform, Wirtschafts- und Sozialstruktur
5 Der Aufbau einer eigenständigen Marine ab 1626 als Wegbereiter
6 Die Veränderung der Seemanöver und ihre Folgen
7 Die erste Marine Ludwigs XIV. 1661 bis 1671
8 Die barocke Schiffsarchitektur Ludwigs XIV.
9 Die Monografie der ROYAL LOUIS von 1668 aus dem Jahr 1677
10 Die königlichen Reglements von 1670 bis 1673
11 Kunstwerke aus Bronze
12 Die Linienschiffe der ersten Marine von 1661 bis 1671
13 Die zweite Marine Ludwigs XIV. 1672 bis 1715
14 Die Schiffe verschiedener Ränge der zweiten Marine
15 Die Veränderungen in der Schiffsarchitektur während der Regentschaft Ludwigs XIV.
16 Eine Nachbetrachtung
17 Dokumente in Originalsprache
18 Tabellenwerke
19 Anhang
translated into english something like:
1 The social and political situation in Europe during the 17th century
2 The colonial balance of power in the 17th century
3 Freibeuterei as a profitable business
4 The change in France's form of government, economic and social structure
5 The establishment of an independent navy from 1626 onwards as a pioneer
6 The change in sea maneuvers and their consequences
7 The first navy of Louis XIV. 1661 to 1671
8 The baroque ship architecture of Louis XIV.
9 The monograph of ROYAL LOUIS from 1668 from 1677
10 The royal regulations from 1670 to 1673
11 works of art made of bronze
12 The battleships of the first navy from 1661 to 1671
13 The second navy of Louis XIV. 1672 to 1715
14 The ships of various ranks of the second navy
15 The changes in ship architecture during the reign of Louis XIV.
16 A review
17 documents in original language
18 tables
19 Appendix
The detailed Content List you can find in the attached pdf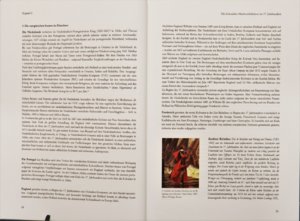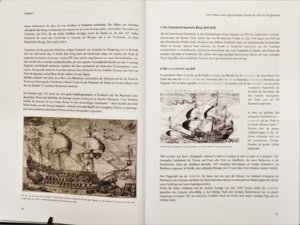 COMMENT:
The author not only offers the reader extensive specialist knowledge of shipbuilding and shipping at that time, but also examines the lives of various contemporaries who are associated with it. In this way he creates a link between a huge information about the sometimes pompous baroque sailing ships of this era, and a description of the historical development and its background.
He knows how to take the reader into the time of Louis XIV in a fascinating way and to let him feel the spirit of this age.
His almost biographical texts make this book with its many illustrations, some of them colored, interesting, not only for those who deal with maritime, historical model making.
The author doesn't make it easy to put it down again. It contains a wealth of information, is written in an understandable way and simply arouses the desire for the sea.
Unfortunately it is only available (until now) in german language.
Highly Recommended!