Joined

Aug 9, 2020
Messages

119
Points

103
Location
Batavia from Kolderstok in oak
The VOC retourschip Batavia has had my attention for over 35 years. Living in the Netherlands I can visit the replica ship in an hours's drive. From 1985 to 1995 I visited the Batavia shipyard once or twice a year. I have seen laying the keel and ten years later I saw the ship sailing into the port of Amsterdam.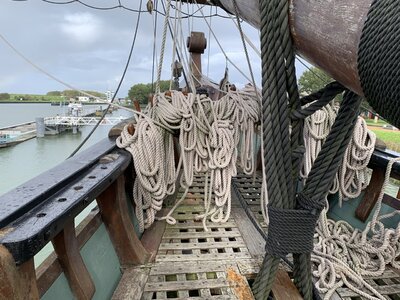 Batavia's beakhead as it looks now. Not really like an orderly English ship, isn't it?
In order to gain some more experience first, I have been building the VOC ship Halve Maen for the past three months.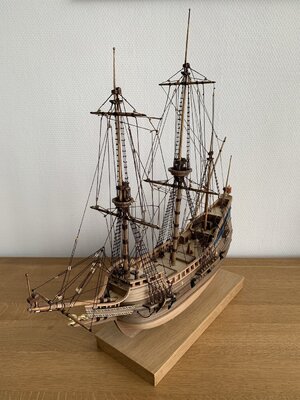 Like the Batavia a replica of the Halve Maen is moored in Holland. Building the Batavia will be much more challenging, but with this experience, the knowledge from a few good books and these build logs I am confident.
On Dutch forums many excellent build logs regarding the Batavia can be read. On Ships of Scale, Heinrich is writing an excellent clear building log.
The Batavia which I have now started building, will be the first Batavia from Kolderstok in oak. Up till now I have decent experience in manufacturing wooden furniture. I love working with oak! I love the colour, I love the grain. But working with oak requires special attention.
A few examples:
Bending the oak planks wil require special attention. I will make a series of molds with which I can bend the planks in consecutive steps.
Simply nailing oak wooden planks 4 mm wide is not recommended. If needed I expect to have to pre-drill.
Last edited: