17th century Dutch Merchant Ships
Text, Photos and Plans for the Ship Modeler.
By A. J. Hoving
Plans by C. Emke
Models by H. Tomesn
Graphics by E. Hoving
Publisher: SeaWatch Books, LLC
Case Bound, Full Color, Dust Jacket
Year: 2014
Large 8.5x11 format
Pages: 152 and 24 sets of plans from 10 merchant ship types in the scale of 1-48 and 1-96.
ISBN: 978-0-9904041-1-8
With this book all the plans modelers may need to recreate a whole range of vessels from the Dutch Golden Age. The plans are on thick stock (paper) and the ships areas follows"
Seagoing Vessels:
Pinas Witsen – scale 1-96 – 4 sheets of plans.
Fluit "Langewijk" – scale 1-96 – 3 sheets of plans.
Fluit "Zeehaen" (Able Tasman) – scale 1-96 – 3 sheets of plans.
Fluit "Roode Leeuw" – scale 1-96 – 2 sheets of plans.
Cat "Peacock" – scale 1-96 – 1 sheet of plans.
Coastal Trade:
Boyer 86ft – scale 1-48 – 3 sheets of plans.
Galliot – scale 1-48 – 2 sheets of plans.
Inshore:
The Narrow- & Wide-ship – scale 1-48 – 2 sheets of plans.
Kaag – scale- 1-48 – 1 sheet of plans.
Fishermen as Traders:
Buss 1598 – scale 1-96 – 1 sheets of plans.
Hooker – scale 1-96 – 1 sheets of plans.
Pink – scale 1-48 – 1 sheet of plans.
ISBN: 978-0-9904041-2-5
Note: Three Fluits is one ship type.
Summary of the people that created this book.
Ab Hoving:
Worked as the chief model restorer in the Rijksmuseum in Amsterdam. Studied the technique of Dutch ship building in the 17th and 18th century. He has written numerous books, articles in several magazines and given lectures. He has been involved in major replica building projects, such as Duyfken (West Australia, Statenjacht (Utrecht) and others.
Cor Emke:
After he retired as a manager from an American Co. in forklifts Cor dedicated his life in building ship models of Dutch vessels from the 17th century. In cooperation with Ab Hoving he produced many AutoCAD drawings of ships, thus filling the gap in the availability of such draughts. Together with Ab he has been involved in several replica projects, like the Statenjacht Utrecht and De 7 Provincien.
Herbert Tomesen:
Herbert runs a company in Amsterdam, Holland, Artitec (
www.artitec.nl
), which produces architectural models. He produced large scenery models of ancient cities in many museums in Holland. He built a huge diorama of Roadstead of Texel in the 17th century containing over a hundred ships. The models in this book are by him.
Emiel Hoving:
Ab's son Emiel studied art in Groningen and has been a graphic designer for almost 20 years. He works for Artitec and did the design for Ab's first book, Message in a model and Statenjacht Utrecht. For the pictures in this book he took photgraphs of Herberts models and used PhotShop to create images of what Dutch maritime world looked like in the 17th century.
Summary:
The book is well written with numerous pictures, beautiful maritime paintings, copies of old building plans, hull renderings and many ship models. Well documented historical information to give the reader a good picture of what type of ships were used in the 17th century Dutch trade.
There is a detailed chapter of what items the Dutch traded in Europe and Russia and one can see that their wealth was first of all connected with their trading position Europe and that is what created their prosperity. The Dutch were Europe's main freighters.
Another detailed chapter discusses how the ships were built. What measurements and ratios were used to produce a type of ship. In the back of the book there is a comparison chart of Witsen and Van Yk's shipbuilding Formula's. Several detailed renderings how the Dutch build there ships, "shell first".
The chapters after that gives the reader detailed descriptions of the type of ship described which include close-ups from ship models, paintings and realistic Photoshop images.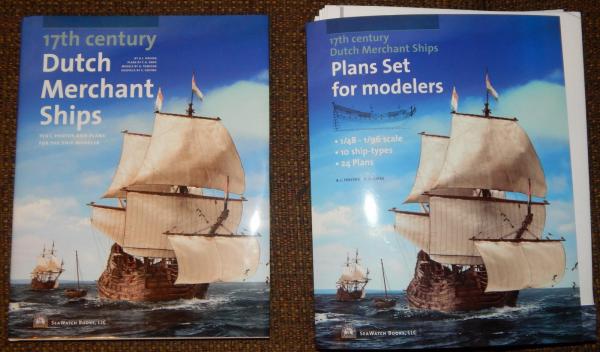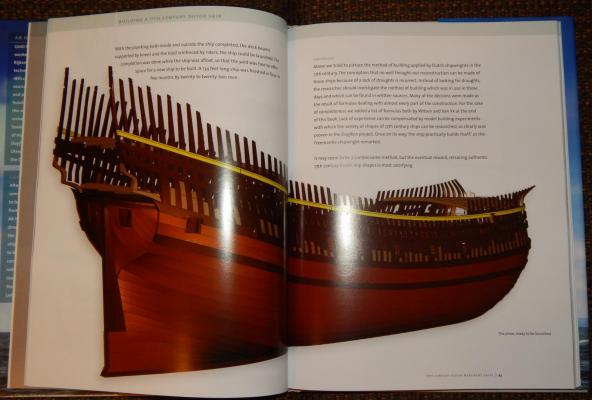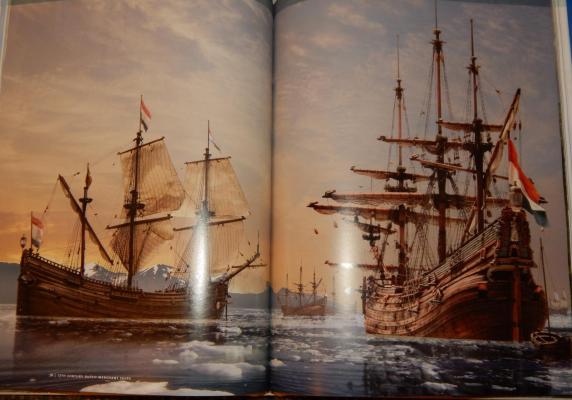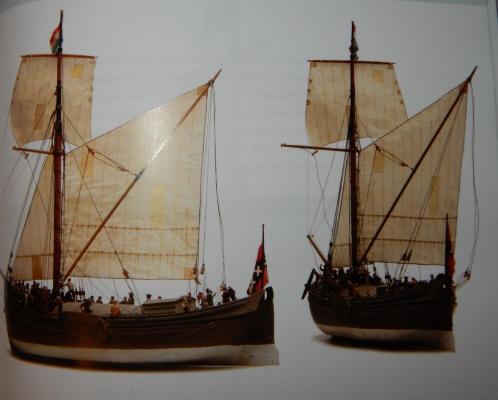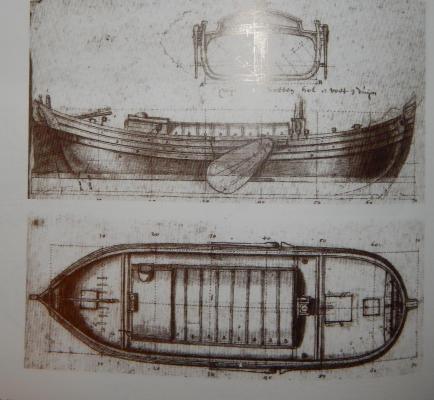 It is too bad the book does not include a CD-Rom with the plans on it like the book from Abel Tasman. The advantage of this would be that you could view, zoom and pan the drawings on the computer monitor and print them to scale different from those that are supplied with the book.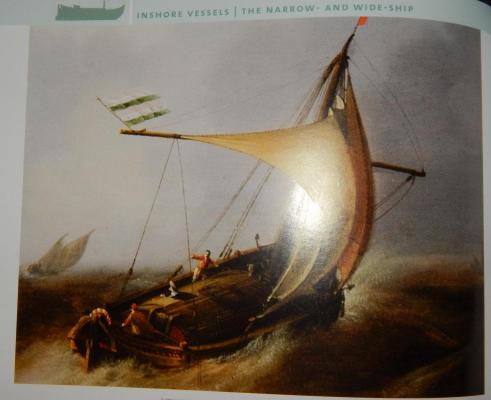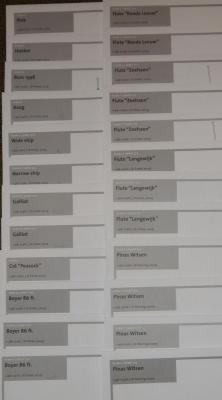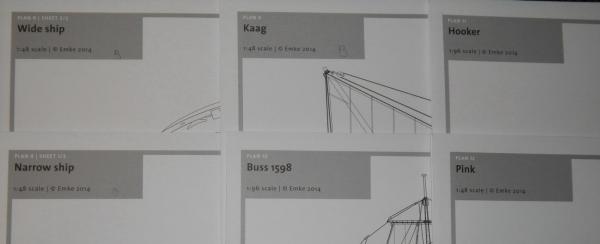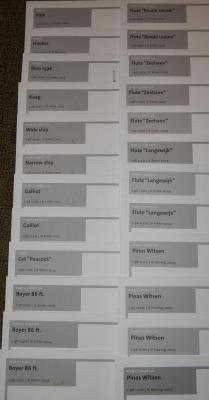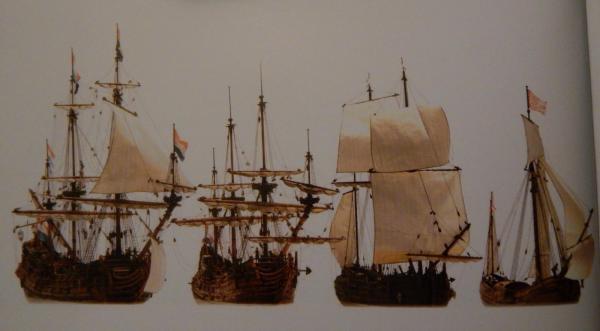 The bottom picture is what all the boats look like if you build them.
Also, the three Fluits go from Large, medium and small. The largest being used for Oceans and the smaller ones for European waters. The Zeehaen - fluit
(A. Tasman) which is also in the book of Abel Tasman has 16 plans. Very elaborate.
The folder that holds the plans is about 3 times thicker than the book itself and the 1:48 plans make for a substantial size boat, so many details can be added