Joined

Aug 16, 2019
Messages

591
Points

308
Location
I have been meaning to start this build thread for some time now , but have been having problems downloading pictures from my camera to my computer. Ever since I installed a Canon printer my Canon camera won't download anymore, so I have to use my wife's computer to download to a memory stick to get them onto mine.
Anyway - enough of my problems. As you can see from the title of this thread I have finally embarked on the building of an old Aristo-Craft kit that I have had on my build shelf for over 30 yrs. I purchased it from a hobby shop after someone had pilfered most of the rigging parts -dead-eyes,blocks etc. - from the box, so I got it really cheap. Over the years I have gathered enough of the missing items to complete this kit. Now that I am retarded - er retired
I figured it was time to get her done. For those not familiar with this boat, she was the first ship built in the colonies - in Maine - sometime around 1607. Originally double masted, she was converted to the single masted version you see on the picture of the box, after completing two trips to England, for use as a coastal vessel - plying the trade and fishing areas around New England. While the pictures I have right now don't show it I have completed the first layer of planking and planked the deck. I will post the pictures of my progress as soon as I am able to transfer them to my computer. For now here is what I have.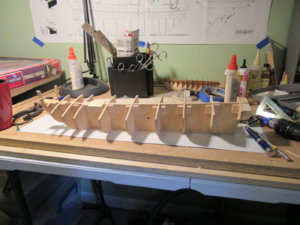 Last edited: