Administrator
Staff member
Administrator
Joined

Nov 3, 2018
Messages

6,862
Points

738

Location
Greeting fellow shipwrights!



Browsing multiple build logs on various shipbuilder forums I have never thought, that one day I will open my own shipbuilding log. I just thought, that those types of logs a great responsibility to engage others in your build process: not just show what you do, instead, share your knowledge how you do it. I am hoping that someone may benefit the log and find it somehow valuable. I will try my best and make it fun to read, avoiding I did this…and I did that. But on the end, it is only you, fellow ship-model crafters who will make this future log interesting. Without further ado let me begin…

The Ship: Charles Royal Yacht, Period of the ship – 1674, Scale - 1/64, Nationality of the ship – England. All my research leads to believe that this Yacht didn't exist, and it just a representation of the Charles Royal Yacht built in 1674 during the reign of King Charles II (1660-1685). The plans are made with reference to a number of royal yachts built in that era.

The Kit: Wile this is not a kit review, I 'd like to give some thoughts about it. This is a single plank on bullheads contractions. This kit has improved the traditional composting scheme of the hull assembly by running the keel from solid wood instead of plywood! Yea, real wood! Laser markings on frames (bulkheads), stems and keels greatly help in positioning parts relative to each other, and the quality of bulkheads is great. All supplied wood was dry and very good quality. Although, I couldn't find\figure out what species various wood is. The yacht's décor consists of a set of white cast metal, brass photo etching and laser-cut wooden elements. For the mast and spars, round billets of light wood are provided, and for rigging, there are light and dark threads of five standard sizes. Unfortunately, the blocks and deadeyes are made of plastic, which is its only significant disadvantage. But blocks are of the correct form and moulded with the shaves. The armament of the yacht consists of eight cast guns (while metal) on wooden carriages. The model is completed with three coloured flags printed on fabric and a stand with a "Charles Royal Yacht" sign. The model assembly of the sailboat is shown on a 20-page colour instruction (all in Japanese), and the drawings are given on three sheets of A3 format.

The kit price: $300.00 ~ 450.00 (US) Personally, I think it overpriced, I will explain why later in the log.

The build: Before I will put photographs and show some the progress, I'd like to explain why this kit brought attention to my eyes, and become a fun to build since January 2018. Thoughts are always ahead of actions, and mine were no exceptions. I have had to finish my project when thinking what to build next. I'd love to build a three-decker, with carvings and decorations and massive armoury but…I quickly realize that this will be a simple multiple years project, which I don't want to engage on. I switch my interest to something less time consuming, however still have decorations an armament so I can get an end results much quirkier. The choice fell on a single-mast schooner or yacht. On one Russian forum, I found build log about Charles Royal Yacht and I found it very attractive from the pictures of a real model. This was a crucial bold point in my discovery, and… you are correct, I bought the kit!!

Here is what inside the box. I didn't make pictures myself (never thought about my own log), so I borrow those from the site I bought the kit. If you have any questions, comments please reply. Remember this build log is for all of us, and without the input is obsolete.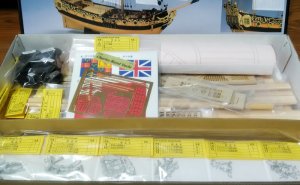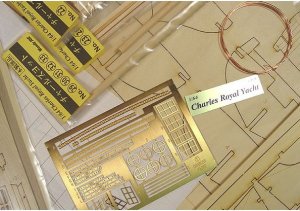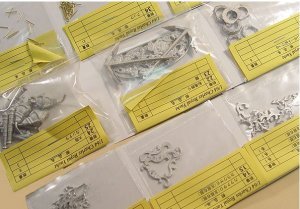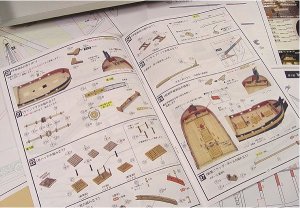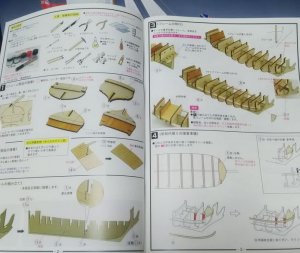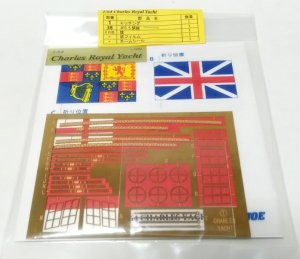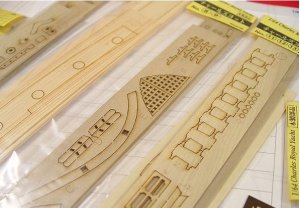 Last edited: