Administrative
Staff member
Administrative
Moderator
Blandford Group Build
Joined

Dec 25, 2017
Messages

11,751
Points

928

Location
Boat David's: View attachment 44876

I find I'm using the instructions to see the next part of the build less and less and tracings of the plans more and more. For this step I found that the plans gave me a better idea of what to do than the pictorial instructions.
It is exactly the way to work....the drawing should be the guiding document, everything else is only an Add-On.
Short info: The parts you are showing are the so called "Catheads" which are used for lifting the anchors.
I just found this explanation:
The projecting pieces of timber near the bow served as crane booms for hoisting the anchors to the rail. The "Cat" is the complication of tackle that is used to raise the anchor from the waterline to the catheads. The cat tackle has a multiple block to aid in lifting the anchor up to the cathead. In other words, once you raised the anchor and stowed the main cable, you need to tie up the anchor where it wouldn't swing free and damage the ship. That was the cathead. Once raised, the anchorswould then be secured to the catheads until they were ordered cast off again. The anchor ring is catted by the large hook attached to the projecting cathead. Generally, a Cathead is the outside spool on a winch, used in handling hauling lines and in topping and lowering booms. Catheads may derive their name from the carvings or cast iron caps in the form of cats or lions, the cat in the eighteenth century being a royal pet. These decorative heads were often plated in gold, and were one of the few ornaments found on a warship.
from
https://www.globalsecurity.org/military/systems/ship/sail-hull.htm
This is a
"cat"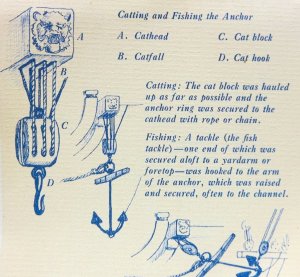 The boats were at this time not lifted by davits, in this time of your ship the boats were lifted with the use of the yardarms, also yards were used for all lifting excercises for stowing, cannons, water barrels etc.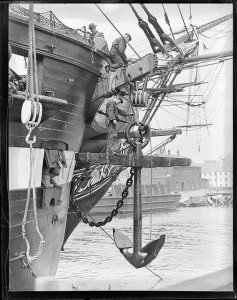 Only for the future time for your built - the tackling of the anchor is very special, so try to get the necessary information before you install the anchor
Sorry for this long reply....it got longer and longer with writing