My name is Jimmy C
I am currently building my first model ship! It is the Cutty Sark model by Artesania Latina.
It is obvious to me now that this is a difficult ship to build as your first project. As if the kit was not difficult enough, I do not have the text instructions that came with the kit!
I do have the picture step by step instructions and I have been building the model by looking at the pictures. Not Impossible, but not any easier!
If anyone has access to the original text instructions that came with the kit, I would probably do a much better job with a copy.
I am progressing pretty well with just the pictures.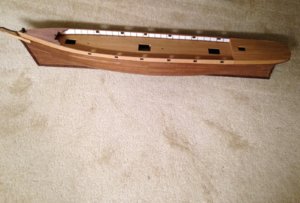 This is a picture of my model about one week ago!
I have added some details in the holds that are not in the kit!
Please feel free to comment, criticizes, or explain what you would change
Jim