Joined

Aug 26, 2020
Messages

74
Points

78
Location
Creating the foremast shrouds for Mary Rose on a jig was relatively simple. The chain plate is (more-or-less) horizontal and the
outer edge parallel to the boat centre line. There are only six shrouds. Transferring the geometry to a flat jig was no problem.
The main mast shrouds are a different proposition. There are ten shrouds on a long chain plate which slopes up towards the stern.
The aftermost deadeye is closer to the hull centreline than the foremost one. How to transfer this geometry to the plane of the shrouds
to work on a flat jig? If the ratlines are to be horizontal in the final assembly they will not be parallel to the chain plate.
With help from Pythagoras and dusting off the cosine rule I did some sums to work out what I hope will be the answer.
As a check, I temporarily fitted the first and last shroud, tied a temporary ratline that looks horizontal and made some measurements.
Happily, when I transferred the two outermost shrouds to the jig the theory and practice agreed.
Aside.
An Apache chief had three wives. The first, who slept on a bed of deerskin bore him a son. The second, who slept on a bed of buffalo skin
bore a daughter. The third and favourite wife (who had an exotic, imported bed of hippo skin) bore twins: a boy and a girl. Which shows:
The squaw in the hippopotamus is equal to the sum of the squaws on the other two hides
.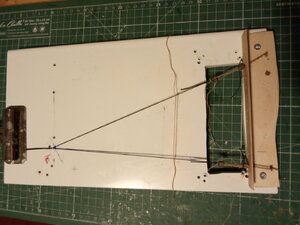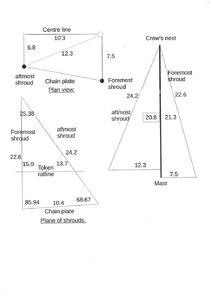 Last edited: