Because of a post I made in 'General Topics' section, Uwe asked me to post more photos of my build. This won't be a 'full-on' build log but rather, a series of photos from my build.
When I started the build back in 2010 I wasn't even aware of any ship modelling forums and had no idea about making a build log so there are no photos of the very earliest parts of the build.
For as long as I can remember I have always loved sailing ships and this was my first ever attempt at building a model. I had considered building a wooden kit but I found the cost of any kit I wanted to build was very high and couldn't justify the outlay. I then discovered Rif Winfield's 50 Gun Ship book containing some plans and drawings by John McKay for a reasonable price. The plans and drawings aren't nearly as comprehensive as other plans but I felt they were adequate to guide me through a scratch build. I had the plans/drawings scaled up a little to 1:80 from their original 1:96 and after a lot of photocopying of the body plan was able to draft out the shape of the bulkheads - - - and as you will all know . . . there are not two bulkheads that are the same shape!
The 25 bulkheads were cut on my bandsaw from 6mm plywood as was the 'central spine' onto which the bulkheads would be mounted. As most English ships of the time were built mainly from Oak I just had to include some in my own build. The rudder, stern post, keel, false keel and all beakhead timbers from the gripe up, were also made from Oak.
This is the earliest photo I have after all the bulkheads had been attached to the 'spine/keel'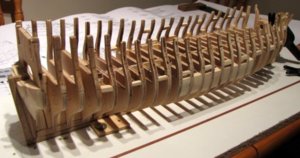 I had no real appreciation for the sequence in which certain parts of the build should be carried out, so I proceeded to mark out the lower level of the gunports on all 3 decks then frame the ports before any hull planking began.
Doing this may not be 'standard practice' but it worked well for me when hull planking time arrived.

You've probably noticed that there is something missing in both the photos above. There are no stern timbers present on the ship and the main reason for that was that I had no idea how to construct them at that time, and those stern quarters would cause me considerable grief a few years into the build.

. . . and now I'll have to trawl through my old laptop, hoping to find some historic photos that I can't find in this one!