Joined

Mar 19, 2019
Messages

147
Points

143
Location
I'd like to present to you another nice Kit designed by Shicheng Model (SC Model Co., Ltd.; Hangzhou) a few years ago:
Marmara Trade Boat (16 – 19th century), a trade ship along the Ottoman Bosporus, scale 1:48
I really love those little ships, that you might still see sailing not only in the Marmara Sea, but also in the Aegean Sea doing little cargo or fishing. Their original dimensions are about 15m long, almost 4m wide and about 2m deep. The ship has a deck at the bow and aft with small storage rooms underneath. As the hull is both wide and heavy, her main keel has two additional auxiliary keels to reduce possible hull damage when docking or landing.
She carries up to six sails in total and a flag on her mainmast.
Bow, stern, rudder and tiller are colorful decorated.
It is a mix of POB and POF, for the hidden parts under the decks there are 10 bulkheads, the open middle area is formed by 22 ribs.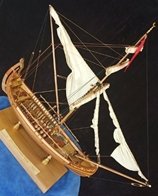 All items are nicely packed and wrapped in cellophane.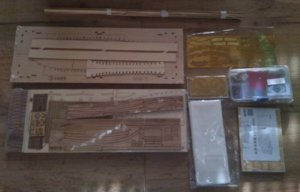 The round bars and strips are all straight.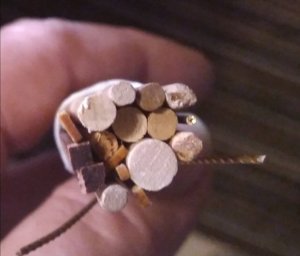 Blocks, Deadeyes and Rack-Beads are quite nice, the ropes aren't that glossy in nature.
As it is a "trade boat", there are some extra goods in the box: pots, wooden chests and barrels.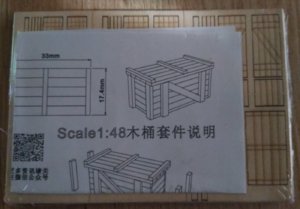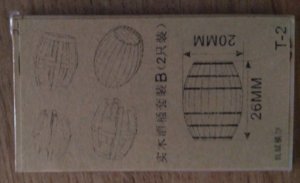 Etched parts: hinges and hull decoration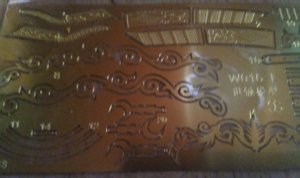 Bulkheads and building berth are plywood, Ribs and other parts cherry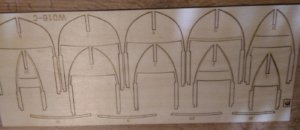 No idea what Wood "Tochigi" is, but the planking is also lasercut and preshaped:
The Instructions are … chinese … lots of pictures and "step by step" photos: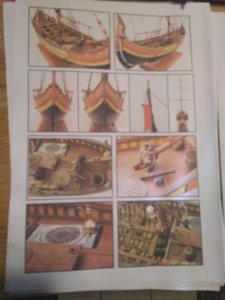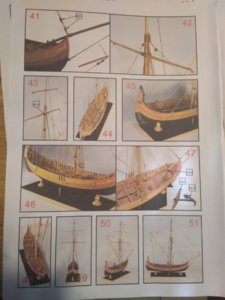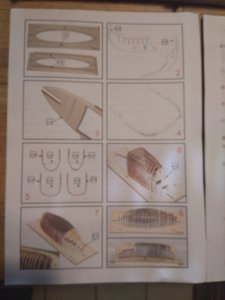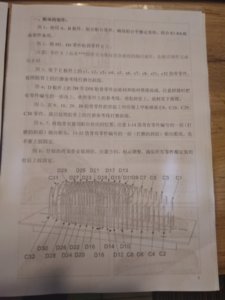 It is about € 150,- via ebay so I thought I'd give it a try … who knows when Tridents Alert really will hit Europe
I might try a build log on her, but as you can see I'm not that good with my camera...
but I think she is such a lovely boat, I had to share her with you