Staff member
Moderator
Sponsor
Joined

Dec 1, 2016
Messages

3,025
Points

578

Harold took a jig idea from Bob then modified it, then I took the jig idea from Harold and reinvented it
first thing I did was set the keel assembly as part of the jig by adding extensions and a jig notch.

next I took inspiration to building frames in a jig and re did that. Kind of the same idea with a keel and a stop. I already had the inside of the jig as a result of laser cutting so why not use it? simple just line up the frame notch in the keel piece and line up the top with the notch.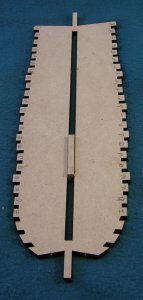 then I turned everything so you can slip the frames down into the jig and set in into the keel notch and the extensions into the jig notches. no need to make sure each and every frame is square because with the keel locked in place it lines up the notches with the jig.
to answer the question of why not set the hull into a jig that's on the out side of the hull? That worked for building the hull but not for finishing the hull. you have to remove the hull from the jig in order to sand it and install the wales. Once removed from the jig the frames are no longer held in place.