Since I have hard to find the time to sit down with a more complicated project at the moment, I had to find something a bit more easy to do.
Then I remember that I once bought a book that actually came with a model included, or maybe it was the other way around.
The title was "Polska ubåtar i Mariefred" which translates into "Polish submarines in Mariefred". It turned out to be a fascinating story about the Polish submarines which were interned in Sweden during world war 2.
The reason for writing all this is that when i bought this book I also got this: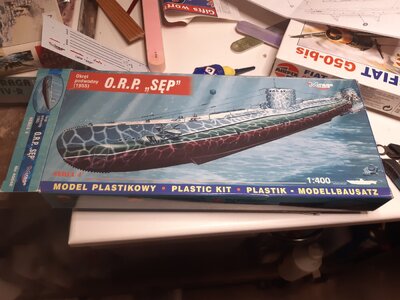 This modell is in 1:400 and will be built more or less straight out of the box. Since it does not contain to many pieces I have good hopes to actually finish it.
First impression is that it has good mouldings, but the lack of locating pins will complicate the building a bit.
As for painting I will follow the instructions in the kit. Partly due to lack of better sources, partly due to the fact that I think that "Mirage " is a polish company and should have a good idea of the subject.