Recreating the 1960s Bounty is not as easy as it seems. Since the original Bounty has alot of droughts and books written about her she is to be recreated quite easy.
For the 1960s Bounty there are alot of photographs to be found in the Web but ship plans are hard to find.
But there are still a vew sources avalible. One is a drawing made by Randall Wilkins for a canceled Pirate-Movie called "Captain Blood":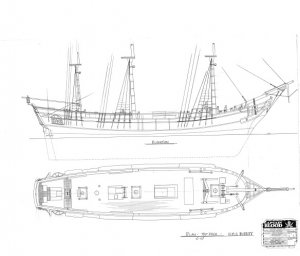 When you compare the side-view to photographs of the Bounty, than you will see that the sheer is too extreme so only the top-view will be of Interst for us.
The other Source is a PDF about the court after the Sinking of the Bounty in 2012:
It containes a side-profile on page 10 and a midship-section on page 8.
Those drawings will also appear when you type "Bounty 1960 plan" into Google Pictures.
For anything else we need photographs of the Bounty which can be found in a huge number in the Web.