Joined

Sep 17, 2018
Messages

259
Points

238
Location
Hello Guys,
in my ship yard's "dust collecting corner" is standing
the old Revell's kit of Peter Pan. Here the kit's history:
Revell/Kikoler Modellbausatz im Maßstab 1:72, H-377 ist ein Rebox erschienen im jahr 197x | Inhalte, Vorschau, Bausatzvorstellungen, Geschichte + Marktplatz | Jolly Roger
www.scalemates.com
This kit was one of my very first kits I can really had had built in my childhood (as the Airfix' BLACK WIDOW and Heller' SOLAY ROYAL).
I did start with the intention to build her as an update to a bit more of baroque detail and more historical correctness - a balancing act. So I voted for the "over baroquing" of the kit towards a Dutch Man O'War. Project name is "DE ROODE BUL" ("The Red Bull") but this is not absolutly decided.
So I bought this book to find some more ideas to work on and to "cartoon" the Dutch art of ship's decoration.
So let us blow away the dust from the kit and look on the state of the art
The
Here hull and transom side by side.
WALES AND FENDERS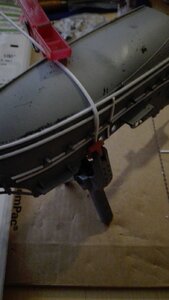 The wales and fenders were added from Evergreen square bars.
Her a little "walk around"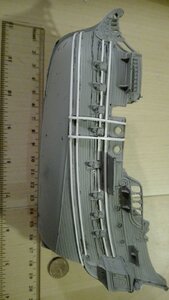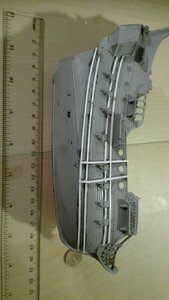 Sometimes thinks really do work!
BREAKHEAD BULKHEAD
The breakhead bulkhead was build in the matter I found on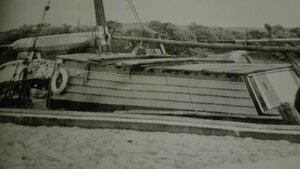 old Eastprussian "journey barges".
And was able to figure out a cut through
in a drawing of Werner Jäger in his monography: DER REISEKAHN MARIA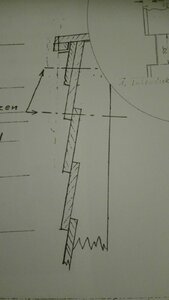 Where you can see that the cut offs were used on the "night houses" sides as walls.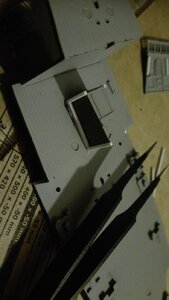 Here my start on the stairways sides.
My"interpretation" of th clinker wood structure.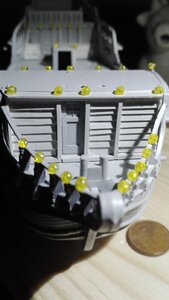 After adding primer I was quite satisfied with the result I had got and added a baroque surplus.
It looks fine but doesn't
fit to the kits shape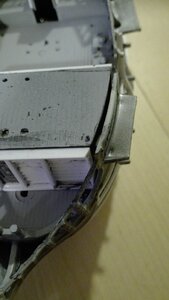 so I had two Great Canyons side by side.
THE TRANSOM
A very sophisticated pice of Dutch baroque ship's decor is the elaborated transom: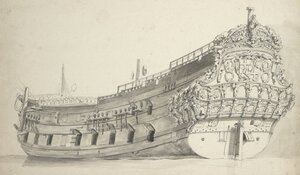 Here by William van de Velde
here by Revell...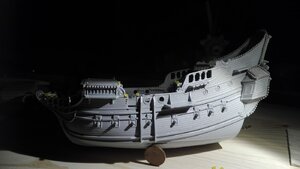 This is the last primed picture.
Last edited: