Joined

Jun 30, 2012
Messages

1,114
Points

383

Ship plans are often a major stumbling block when it comes to ship modelling. Obtaining them from museums is often a costly and long drawn-out affair. In my particular field, (About 1850to about 1965) I have no great problems, because most of my plans come from books, defunct shipyards and shipping companies, or old technical journals. I began my book and plan collection about 50 years ago, and it has now grown to sizable proportions. I always had it in mind to start writing on the subject, and because of that, I obtained written permission from various organisations many years ago to use their plans in any books or articles that I may write in the future. I have used a lot of these, but have always been aware that many of the plans were blackened and discoloured with age and did not reproduce very well. Consequently, I taught myself to prepare my own plans from often dilapidated copies supplied to my by various shipping companies or shipyards. I also have quite a large library of ancient books that are now in the public domain, their authors having died more than 70 years ago. Although I am no great draughtsman, I am improving all the time. The attached image is that of an iron barque that I am preparing at the moment. I am NOT a plans service, but I do include these in my small and inexpensive practicums that I now produce on a regular basis. These practicums are usually about 16 pages or so in length, and always contain at least one plan. They contain both model-building information, and historical notes, also using public domain images of old ships that have been made available from various archives. Most of the practicums (downloads) go under the name of The Shelterdeck. and each one takes me about seven hours to compile. Although they are mainly a labour-of-love, I do put a nominal charge of them of £1.49 (about $2 US), paid via Paypal, and delivered via the internet immediately payment is made. Publication is at approximate one month intervals, but this is not hard and fast. It really depends on when they are completed. They have now been running for over a year, and have a steady readership of about a dozen people. The main downside for most ship modellers is that they only concern merchant ships (all nations). There is no naval content, unless it involves merchant ships. The first issue of The Shelterdeck is free of charge - here is the link:
http://payhip.com/b/krO6
- After it opens, scroll down to read the synopsis, and see the Free Download button. I am not a business, and do not take private commissions for models. The Shelterdeck is produced for the very few modellers who wish to get away from expensive kits, and who can shake off the attitude "I could never do that!"
Bob
​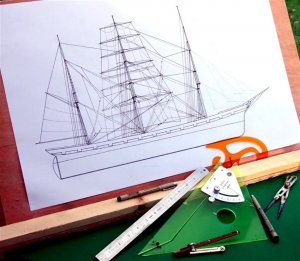 ​