Joined

May 25, 2017
Messages

2,329
Points

538

Location
I would like to re post this build log on SOS forum, I started building this kit and engine a couple of years ago and I am still working on it, hope you enjoy.
G'day all, I am building a Steam launch kit made by Krick, it is the Borkum 1/12 scale, it has an ABS hull, and all the rest is wood so I hope it is OK in this section of the build logs.
I am installing a steam engine, it is built from a Stuart Turner casting set along with various brass bar and brass and steel rod,
I have all ways wanted to build one of these and I must say that if any model engineers look at this log please understand it is my first and probably only attempt at this.
on approximately the second page of this log I start building the launch.
This shows what comes in the casting set.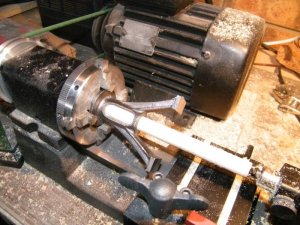 This is how I set up to machine the Standard, the main upright piece that holds and guides the con rod, the piston and also the pot that goes on top.
the dowell was a really tight fit and with the use of the live centre suported the standard.
machining the feet of the standard, ( I can hear all the real machinists screaming in agony )
machining the seat of the standard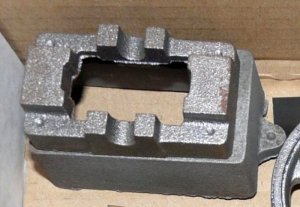 The sole plate and box bed as supplied
This is called the sole plate and is shown after machining and the holes have been drilled and tapped
and also the seats for the bearings have been filed.
Checking the bearings against seat.
.
.
Last edited: