Sponsor: dlumberyard
Staff member
Sponsor
Joined

Dec 1, 2016
Messages

3,081
Points

578

I have been working with wood, trees and lumber for many years and I have been asked to start a topic on wood.
so here is my first post
Any wood can be sold under different trade names boxwood is a good one for that there are 70 different woods sold as boxwood most are not even close to Boxwood. The biggest mystery on the lumber market was "Castillo boxwood" it was called exotic Hickory, Brazilian Maple, Palo blanko and a list of other trade names it was introduced into the states as wood flooring then some importer looked at it and thought hum looks kind of like boxwood, so someone gave it a different name and jacked the price up and BINGO! you now have expensive boxwood.
the samples you see are actually the same wood from the same load of Calycophyllum multiflorum (sold as south American boxwood Castillo boxwood) The top samples were what the floor manufactures were looking for and sold it under different names. The bottom sample is the same wood from the same load but looks totally different. This is not the first time the same wood is sold under different trade names. An example is Red Gum in the south the wood has a bold figure of reds, browns and orange and it is sold as Red Gum, in the North the same tree, the lumber is sold as Sweet Gum and has no figure at all it is a pale cream color.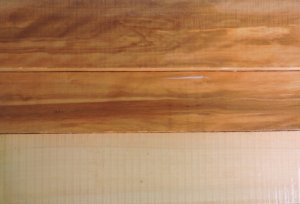 lets see what this wood and looks like when compare to true boxwood. Bottom piece is what is being sold as Castillo boxwood the piece sitting on top is true boxwood. Not quite the same is it?
Lets just imagine at some trade show a group of woodworkers and importers are sitting around having dinner and the conversation goes something like this.
A wood importer says I am thinking about getting a container load of Palo Blanko and selling the wood to the craft/woodworkers , it's a nice wood for turning, inlay, model building etc. The problem is it is common flooring and I can't sell it as some exotic craft wood or specialty wood it needs a "brand name" Everyone at the table is sitting there hum? Then Art who is having Salmon with capers holds up his spoon with a caper and says Caparidaceae. You don't want to use a trade name that is already used in the lumber trade or any wood sold as lumber. John shaking his finger says "yes! I got it Capparis has 350 or so species. This family of trees has some fine texture, hard and dense yellowish wood. The locals call it Castillo. The trees are never lumbered they are much too small and never exported; it is used by the locals as firewood. Ok then Castillo it is and because the wood kind of resembles Boxwood you can call it Castillo boxwood. Problem is Capparis are small trees not much more than a shrub. You can't sell lumber 3 inches thick x 14 inches wide and 15 feet long from a tree that might grow to 6 to 8 inch diameter trunk. The answer is let's transplant Castillio boxwood into the Calycophyllum multiflorum family. This will work because the name is real the trade name is fake but no one cares what you sell it as. A new wood is invented and is sold as an exotic replacement for boxwood. Lucky the wood is common and cheap and exported as lumber so the supply can continue.
Ethically you go to a fruit stand and tell the guy I want to purchase oranges you pay your money and he gives you a bag of apples. So you say wait a minute these are not oranges. Your told they are both fruit and both round don't be so picky. Is it the same with Castillo Boxwood? Your being sold what you think is Boxwood buy really getting something not even related to boxwood. The answer is yes and no it is widely accepted in the lumber trade Castillo is a wood sold as a substitute for boxwood and it does serve that purpose. Things might come into question if you were to build a first class model ship for a client who requested Boxwood and you used something else that was not true boxwood. Is it right for say an antique dealer selling an Ivory carving when actually it is a plastic made to just look like ivory?
ok lets look up this scientific name in the catalog of timbers department of forestry Yale university. catalog complied by Samuel J Record dean of the school of forestry they have been cataloging timbers for about 100 years and list over 70,000 types of wood just in the Americas.
The lumber trade list it as such
Common Name(s): Castello Boxwood, Ivorywood, Palo Blanco
Scientific Name: Calycophyllum multiflorum
can you spot in the Common Name(s): Castillo Boxwood in the Yale list under the scientific name? bet you can't because these are made up names by a wood dealer selling you oranges and giving you apples.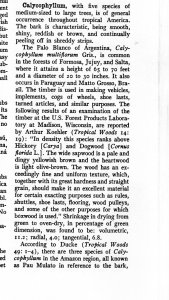 So Castillo is not in the family of Calycophyllum multiflorum
There is no such wood as Castillo boxwood it is not a wood it is a trade name
So exactly where did the name Castillo come from? Lets go back to that dinner conversation and see if there is any truth in it.
Going back to Yale department of forestry lets check the 700 page catalog of wood and timber and see if there really is a listing for Castillo.
Sure enough there is a wood called Castillo and Castillo is not from South America it is from Honduras you can see in the listing after the name which last time I checked is not in south America it is in Central America.
There is a list of woods in the Yale department of forestry ( south American boxwood family) for many years sold under the trade name of West Indian Boxwood. Next we will take a look at these woods.
Last edited: