Well this is my first build ( larger scale )and my first build log. I did build an AL chinese junk for a training/learning but didn't do a log on it. Thought I better start a log before I got to far along on the build. I will hopefully be able to update the log about once a week. I only get a couple hours a day at best to work on the ship.
Disclaimer: Any misaligned parts or flaws in build quality are strictly optical illusions produced by the camera
These were my first builds, a china knock off black pearl kit ( abandoned due to lost parts in mail and poor quality) and an AL chinese junk starter/learning build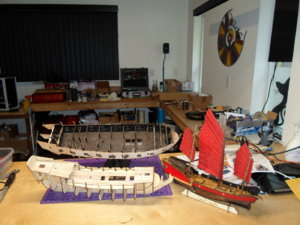 Decking is 1mmx3.8mm Indonesian Lumber, golden oak stain and damp cloth ebony stain (light wiped) to bring out grain and pre stain edges.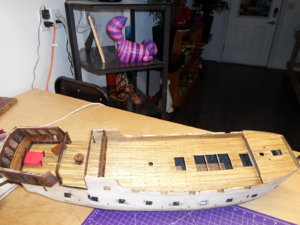 I won't be putting in lights and left out the
glass
so this will be the extent of captains quarter details as sight line will only be through windows.
I cut decking to 100mm
( 16 feet scale )
planks for the captains quarters and will probably do the same for poop deck
The main deck plank end details are done with the dent and pencil technique
( or just plain laziness if truth be told LOL )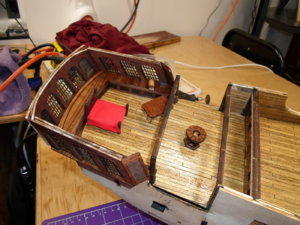 First layer planking and water/start line of final planking ready. Really struggled with finish planking choice. I was going to do a light yellow and black theme but have
now decided to use the supplied walnut and see how that goes. I must say I'm not a fan of the 0.6 mm
veneer
planking wood, just doesn't feel like a plank to me and
doesn't seem to lay down flat as well as thicker wood. O well will just go with it and if I don't like it I may just paint it black at the end of the day