Well-Known Member
Blandford Group Build
Joined

Sep 7, 2017
Messages

191
Points

63
Location
Hello All!!
Well while Dave and Mike have been working so hard on this project I have been slackening off a little. So I thought it was maybe time to show some progress on my part, before any keel hauling or loss of grog rations begins.
I have just finished making the columns for each of the models. We had the choice of a few different styles to choose from and as it ended up everyone choose a different one. It is now official all models will not be exactly the same, and therefore impossible to ever offer as a kit
(not that it ever was going to be).
Columns are made from 1/4" square cherry stock, turned on a Sherline lathe and in the case of the tapered ones shaped using sanding sticks.
This what we had to choose from, the three on the end have been treated with poly. If you notice the end one on the right is a little off centre, this due to using a four jaw chuck that is not self centring. Independent jaws are typically much more accurate, but I found that with wood and each jaw applying a different pressure it was very hard to centre using my four jaw chuck. The two on the right show that by carving and filing the end round I was able to use my self centring three jaw chuck with better and more consistent results.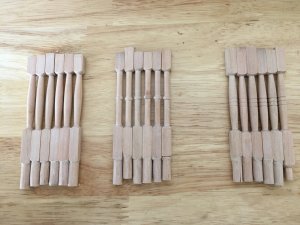 Here are the final results from left to right are Dave's, Mike's and then mine. These are not cut to length, each modeller will be responsible for that. Included is one extra for each of us, just in case something goes wrong.
Hope you enjoyed.