Joined

May 6, 2020
Messages

257
Points

168
Location
I'll try and keep a dribble of progress pictures coming. I started this model in 1990 and stopped in 1991. I understand the kit has changed slightly since. Sadly, I don't think the instructions have. However inspired by this new-fangled interweb thingy that we didn't have back in the day, i have seen what can be achieved, and while I can't/won't emulate the better versions I have seen, I hope to do a better job than I had in mind when I dug the part-build off the shelf a few weeks ago.
I am waiting for some more supplies to arrive so I can finish the gun rigging. The kit shows no recoil ropes, but does have tackle - having put in one recoil rope, I don't think I'm going to manage to get the running-out tackle into place, perhaps doing it at an earlier stage might have helped. I did say it's not going to be museum accuracy, didn't I. But perhaps better than Mantua had in mind - for instance I spotted today that there is no suggestion of bowsprit shrouds anywhere in the plans.
And I'm just realising how much more string I'm going to have to order to complete this - serving takes miles of the 0.25mm stuff, and the selection of 3 sizes included really isn't enough of a range. Or length. Wish me luck!
Some random pictures so far.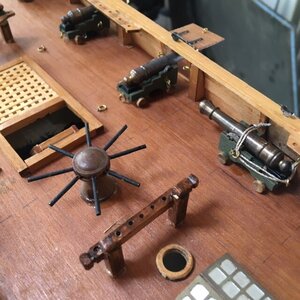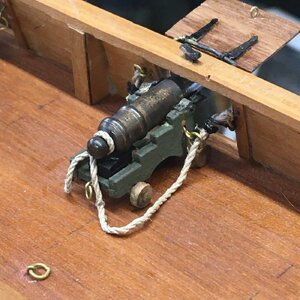 This rope has now been removed pending a larger diameter one:
Bowsprit saddle for forestay: