As a complete novice at model making, I started this a few days ago. I'm a big fan of the Patrick O'Brian Aubrey Maturin books and y wife bought me the kit as an anniversary present back in August as a project for the winter months. I thought the New Year was the perfect time to make a start.
I'd already poured over the plans, had a look at some of the logs on this site, particularly TKAM's, and bought a few bits of essential kit like a slip, a nail nailer, a decent knife set, glues etc.
It seems that the first major task with this kit is to try and make sense of the instructions! The body of the instructions are in some sort of mangled English and the sequential parts list is Italian. The material to use for each stage has to be cross referenced to a key on a separate page and some of the quantities and measurements don't seem to make any sense at all e.g. at stage 20 the Tavolata (Deck Planking I pressure to the non Italian among us) is shown as requiring quantity of 1 (when there are clearly loads of planks on the diagram) measuring 0, 5x4. 0, 5x4??? Can anyone tell me what that means?
Also, there is no indication of what the different woods provided are e.g. the Deck planking is shown as being LG, which according to the key = Tanganyika wood. I have no idea what Tanganyika wood looks like.
However..... the quality of the materials is very good and I am progressing enthusiastically using a mixture of deduction, Google Translate, guesswork, research, other people's logs and common sense!
So far I've got to stage 19 i.e. false gun deck glued down and all has gone quite smoothly so far. The parts are good quality and generally fit together well although a couple of the frames needed minor trimming to fit. The Hobbyzone building slip was very useful for squaring things up. One minor issue was that there should be notches in the false gun deck to accommodate pegs at frame 7. These were missing so I had to cut them myself (see photo).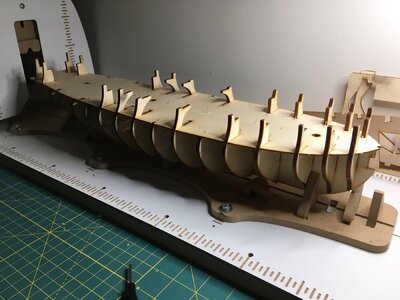 I used half driven nails to hold the deck tight down on the frames as per the instructions and I now have a very solid structure.
Next challenge is planking the gun deck. Now ....... which is the right wood to use..... how much and what measurement?