Joined

Jan 23, 2018
Messages

458
Points

93
Location
Bending Planks
Per the instructions "glue on the first planking strip"
How does one get the plank to fit a curve?
Look in the "how to books", check "videos on the internet"?
Another "jig". A two foot piece of PVC pipe sealed at the bottom with a plug and with a removable plug to seal the other end.
I Used the main deck cutout as a template to get the curve of the hull. Then transferred the curve to some 1 X 4 pieces.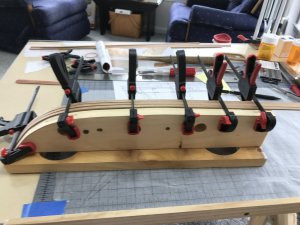 Step 1) fill the PVC pipe with hot water, add a small amount of Amonia. Leave it overnight.
Step 2) clamp the planks to template form and leave overnight.
Step 3) ready to mount on hull.
I did six planks at a time, since that's all my template form would hold.
Last edited: