Joined

Jan 18, 2020
Messages

114
Points

103
Location
I was perusing the internet looking for a set of decent lines for the bomb vessel cross section, which I want to lengthen so that I can also show it with a mast and some rigging. I came across half hull models and was intrigued. Basically these are exactly what the name says; it's a model of a boat or ship hull, split down the middle and mounted to a plaque. These were used to as a visualization tool for the boat/ship builders to see how the hull looked and also to take the lines from. These were made with no rigging, fixtures or deck hardware. Today there only used as decoration as the computers can make the necessary patterns and make sure the lines are 'fair'.
Here is an example of such a model:
I was thinking that this would make a nice project. The framework is relatively simple, but yet when you plank it you can make it as elaborate as you want. By adding the correct width of planking, and cheater planks, hook scarf joints and fasteners this would make a nice looking model. The other advantage one would have with this is more practice in planking. And I know I can use all the practice I can get.
As I mentioned I was perusing the internet, I did find a nice set of lines to use on this model. This is a model of an English Cutter from the mid 1700's or so. Apparently these were very popular as I believe about 30 or so of these ships were ordered at that time.
Here is a set of lines for this ship, look at the lines for the ship No. 6;
I attaches some additional information about this ship below, she was about 54 foot long.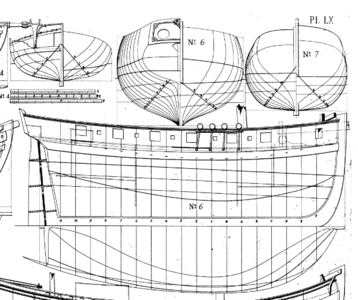 Once I had these lines I was able to trace them in CAD software and got a basic hull form, as seen below;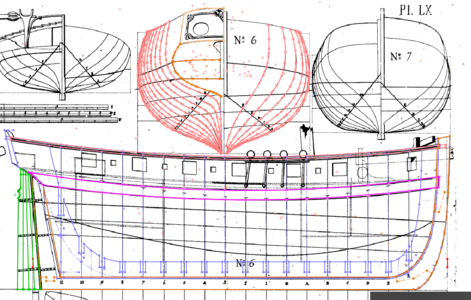 After the tracing was complete, and the curves were cleaned up I was able to then draft the model below.
I'll be the first to say that CAD
does not
make things happen magically, that step of cleaning up the tracings into something useable is what took the longest to do.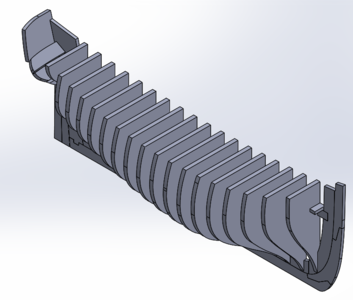 This was modeled up full scale, so that I could easily scale it down to whatever size I felt was an appropriate scale to build. My intent is to produce a set of drawings at 1/32 scale, which would make a model about 22 inches long.
As of now my intent is to have all the drawings in pdf format and printable on 11x17 paper.
I would like everyone to know that I will offer the drawings to the group, for free of course, so that anyone that is interested can come along for the ride and build one for themselves. I would like to build a quick foam mockup before I release the drawings as a sanity check to make sure there are no glaring mistakes, so we are all not starting from scratch in the event I made a big mistake.
I will share my build as I go along as well as any hiccups along the way and with the hopes that all who are building or even following can give much needed insight and critiques along the way.
I have estimated that this project would cost about $30 US, as the materials can all be bought at such places as Hobby Lobby, Joann Fabrics and Michaels Crafts and your local hobby store. This is my thoughts on what materials would be required;
3@ ¼ inch plywood or MDF panels 12 x 24 for the ribs
3@ 3/16 inch basswood 3 x 24 sheets for the keel, frame and supports
2 or 3 sheets of 1/16 in basswood 3 x 36 sheets for the planking. The planks will be about ¼ inch wide, but some will have a nice curve and need more material.
Your favorite glue and finishing products; wax, Tung oil, varnish, etc.
My next step is to finish the drawings up and build the foam mockup in the next few days. I'll post pictures and anything that I learn along the way.
With all that being said, come and join this project with me and let's get to planking..
Ken