Joined

Jan 25, 2014
Messages

20
Points

48

Location
Greetings to all.
Not my first model but will be the first log I've attempted.
I'm working from my phone as I don't have a working computer at the moment so bear with me.
​
I've resized this by emailing myself and using the resize option so hopefully, resolution will be ok.
This will be the first in "Victory Series" that I've been planing for the past 9 years
. The whole life gets in the way of modeling seems to have been the theme plus trying to get some experience with other builds has put this in the shadows for too long. With what I've planned I figured I'd better get cracking. Being realistic this is going to be a 3 to the 4-year endeavor.
First the obligatory reference and research. This alone took almost 5 years, the cost is a factor some of these seemed to have been printed with 14k gold ink.
The big picture: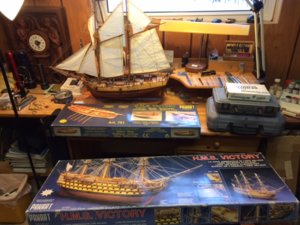 The full 1:78 kit and 1:16 launch both from Mantua/ Panart. I know there are much better versions being offered now. Caldercrafts which I bought then sold was the cream de le cream and I understand Amati has a 1:64 version in the works due for release in a year or two.
The reason I decided to stick with Panart was I purchased Bob Hunts practicum from lauck street. So a kit bash is in order. He still has support from what I understand so here we go.
I will do an unboxing and review if there's interest. More to follow.
Best to all Rich
Last edited by a moderator: