Hi Donnie/everyone and greetings from the UK. I've built models all my life, most lately plastic scale armour (I like Tamiya kits for the accuracy of the mouldings and detail) which I put into diorama scenes.
I have only made one wooden ship before. My Dad was a good modeller and I bought him a wooden ship which he made a start on, but when he got Alzheimer's I think my Mum quietly put it away, he never mentioned it and it slipped my mind. However, when they passed away and we were clearing their house I came across the model and thought it would be a nice memory to finish it. He'd only really got started on the solid hull but after a lot of head scratching I got stuck into it and finished it – see photo.
The phrase 'Boston Fishing Smack' has stuck in my mind, don't know why and it is probably not the case; maybe some of you guys know what it actually is. Not only did I enjoy finishing it for Dad, I also enjoyed the woodworking involved, doing the rigging, even sewing the sails!
I always promised myself that when I had the time I would build 'a big ship' with no idea at all what that might be. Well, the time has come and I am about to start my first wooden ship model. Prior to this, I have done a lot of reading on various forums and watched quite a bit on Youtube to give me some clue as to how to start out. I have certainly got the most information and ideas from Ships of Scale and so, by way of payback, I thought I would post my build log here and then all you experienced guys can at least get a laugh or two out of the beginner's mistakes I make – and hopefully offer your experience and advice.
I wanted a kit which would be a plank on frame design and something from the Nelson era which I have been interested in since I made a fascinating visit to HMS Victory. A fantastic day, but lots of head bumping involved (I am 6'1'' tall) and when I mentioned to one of the guides that people must have been smaller in those days she said that the ship's carpenter at the time of Trafalgar was 6'4'' tall! Another great day out was HMS Trincomalee in Hartlepool (they have a website) which is well worth a look.
I have plumped for a Caldercraft kit of HMS Snake which is an 18 gun carronade armed vessel. The description says:-
'The Snake class were ship-rigged sloops. This class was very business-like with a flush deck and nine cannons or carronades each side, they were very fast and seaworthy. As originally built Snake had a full ordinance of 32 pounder carronades. Carronades replaced the carriage guns because at close quarters the short-range carronades proved devastating to their opponents. Class dimensions were: length 100'; breadth 30'6"; displacement 382 tons with a crew of 121'.
The actual manufacturer is JoTiKa which is also UK based, so I hope the instruction book which comes with the kit is reasonably well written. It is classed as an intermediate kit, so, given that I am an experienced modeler I should be OK. Right? They say pride comes before a fall, but armed with some new knife blades, a bag of small clamps and some super glue here we go.
PS. I have now been building the kit off and on since October but couldn't find the correct downloading lead for the camera in the mystical Box Of All Wires which we keep under the stairs and we also had the chaos of moving house, so some of these posts may come faster than reality but I will post in the order I went about it.
Regards,
Graham.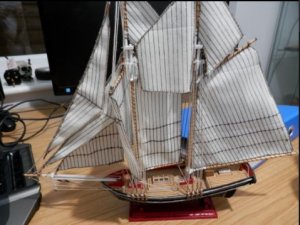 ​