Joined

Jul 28, 2014
Messages

709
Points

198
Location
​
The
Mayflower
was an English ship that famously transported the first
English
Puritans
, known today as the
Pilgrims
, from
Plymouth, England
to the
New World
in 1620. There were 102
**
passengers, and the crew is estimated to have been about 30, but the exact number is unknown. This voyage has become a
cultural icon
in the
history of the United States
, with its story of death and survival in the harsh
New England
winter environment. The culmination of the voyage was the signing of the
Mayflower Compact
, an event which established a rudimentary form of democracy, with each member contributing to the welfare of the community.
Mayflower structure and layout
The Pilgrim ship
Mayflower
was a
square rig
with a
beak-head
bow and high, castle-like structures fore and aft that served to protect the ship's crew and the main deck from the elements—designs that were typical with English merchant ships of the early 17th century. Her stern carried a 30-foot high, square aft-castle which made the ship extremely difficult to sail against the wind and unable to sail well against the North Atlantic's prevailing
westerlies
, especially in the fall and winter of 1620, and the voyage from England to America took more than two months as a result. The
Mayflower
's return trip to London in April–May 1621 took less than half that time, with the same strong winds now blowing in the direction of the voyage.
No dimensions of her hull can be stated exactly, since this was many years before such measurements were standardized. She probably measured about 100 feet (30 m) in length from the forward end at the beak of her prow to the tip of her stern superstructure aft. She was about 25 feet (7.6 m) at her widest point, with the bottom of her keel about 12 feet (3.6 m) below the waterline.
William Bradford
estimated that
Mayflower
had a cargo capacity of 180 tons. Surviving records from that time indicate that she could certainly accommodate 180 casks of wine in her cargo hold. The casks were great barrels holding hundreds of gallons of
Bordeaux wine
each.
This ship traditionally was heavily armed while on trading routes around Europe, due to the possibility of encountering
pirates
and
privateers
of all types. And with its armament, the ship and crew could easily be conscripted by the English monarch at any time in case of conflict with other nations. By 1620, the
Mayflower
was aging, nearing the end of the usual 15-year working life of an English merchant ship in that era. (Wikipedia)
(More later on in this post)
** Some lifeboats on cruise ships today can accommodate 150 people.
(1) Oh! Sailor that upon the sea
set sail to see what you could see.
You left some friends upon the shore,
remember them, remember me
while finding isthmi to explore.
(4) Your sloop like life will fall and crest,
strict discipline will serve you best.
Grab hold the rudder, keep straight the way,
with lessons learned you'll pass the test.
Keep us in mind, of this I pray.
Return to sail another day.
Charles Hutchinson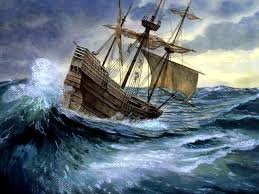 (Pictures from Google Images)
Last edited: