Joined

Mar 20, 2020
Messages

185
Points

253
Location
Well, thank you all for your kind words. I hope I won't disappoint you with my simple paper products.
Since a few years I build my models in paper, just because it is fast, cheap and easy and it makes much less debris, which keeps the admiral happy.
As a test I tried my hand on the pinas, described by Nicolaes Witsen (1641-1717). You may know that I wrote a book on that ship, as mentioned above. I made several models in wood of this ship and it was pleasant to find out that, though a 1/50 model in wood took me three years to build in the 80's, I finished this one in three months.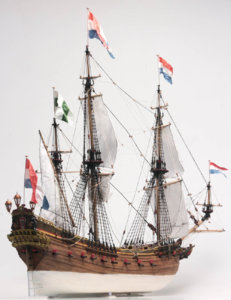 After that a lot of small crafts followed. I planned building them a long time ago, but could never find the time.
Here are models of a kaag, a 'wijdschip' and a 'smalschip', just to show a few. They are all genuine old ship types and they were fun to do.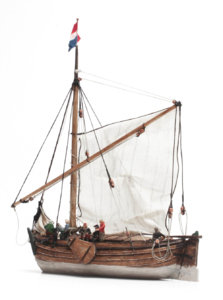 Things became even more fun when my son suggested to make photoshop-paintings from the models. That resulted in things like these: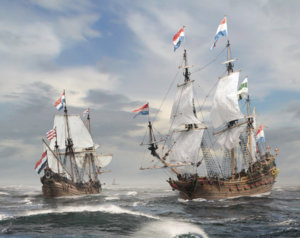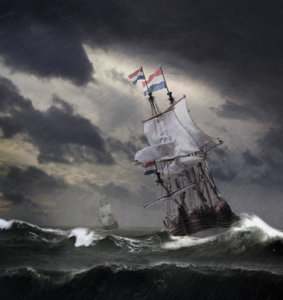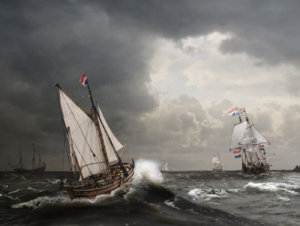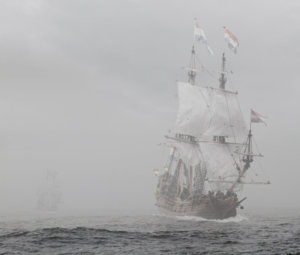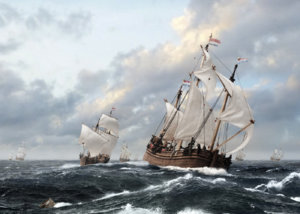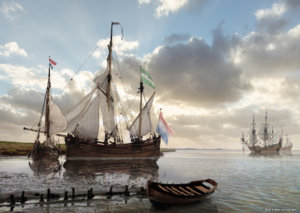 Then I am afraid I lost my good intentions to only make smal and simple ships, because we wanted to make sea battle 'paintings' too. So we did.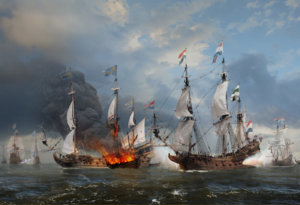 Especially the last one forced me to go outside my comfort zone and create foreign ships, which is a little bit against my silly principles. In the mean time some pictures were sold to serve as a book sleeve, some we're used as screen-savers and of course posters were made. Anyone interested can have a file he can print for his private use.
For another book sleeve we recently got a commission, which forced me to build a Mediterranean pirate. I don't have good pictures yet, but at least you can see what I mean. It is a tartan, for which I found a plan in Chapman's Architectura Navalis Mercatoria (1775).
My latest project is another experiment. I try to reconstruct a Dutch galley after a contract specification of 1600. Don't know if that will deliver anything useful...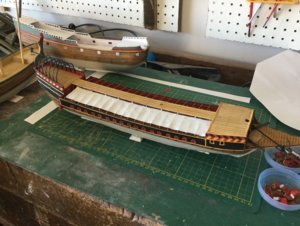 As you can see there are other models I am working on at the same time. Actually there are 6 or 7. I like to only do things I want to do at any moment. I am rigging man-of-war, which takes a long time, so I want other jobs to do if I want to. Don't know where it will bring me.
Oh yes, before I forget: all my models are on a 1/77 scale. I like that scale, not too big and not too small for my clumsy old fingers...
Hope you like it.
Last edited: