Joined

Mar 5, 2021
Messages

705
Points

353
Location
I thought some of you might be interested in a famous but little known vessel called the R.C.M. Police. St. Roch. The ship is just over 104 feet in length, beam 24 feet 9 inches and draft 12 feet 6 inches with a displacement of 323 tons. Before I go much further, and especially for my Canadian friends, I would point out that the name on the hull is indeed as written.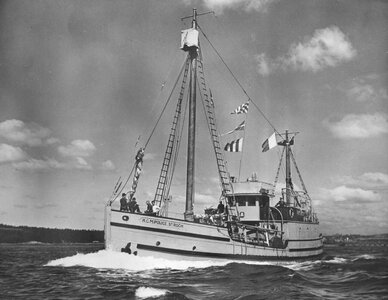 The St. Roch (pronounced "Rock") was the second vessel, after Roald Amundsen's Gjoa (1903) to traverse the Northwest Passage from east to west. However, she was the first vessel to traverse the Northwest Passage from the west to east. The ship still exists and is proudly displayed in the Vancouver Maritime Museum, in Canada. The story of the St. Roch is fascinating so rather than attempt to write my own short narrative I feel it better to provide a paragraph from a Commemorative paper by Len Canfield and then the complete 16 page document, link below.
Some of the most intriguing aspects of this famous little ship and her RCMP crew are audio recordings made by key players involved with the St. Roch. Listening to the recordings is definitely a step back in time. The link is provided below.
I had a lot of fun building this plank on bulkhead (POB) Billing Boats kit and worked slowly away at it for a couple of years. I recently finished the final small parts of the build and, with the completion of a basic stand, I feel I have a reasonable rendition of the vessel. I added some extra fixtures and fittings here and there but generally it is "as is". I took some photos of my model, which I will add later to the SOS Completed Models section. However, I've attached a couple to give an idea of her size.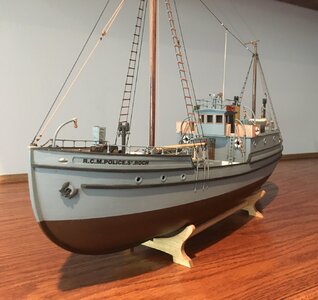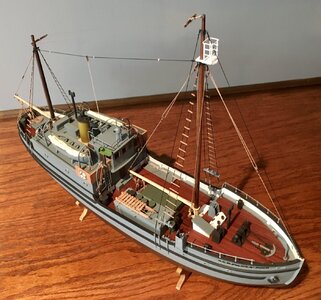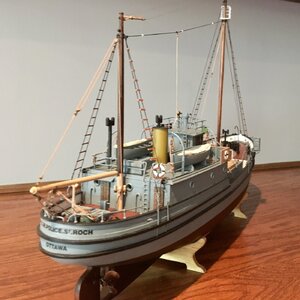 Commemorative document by Len Canfield
"When the RCMP Arctic patrol Vessel St. Roch slipped quietly into wartime Halifax Harbour October 11, 1942 few Canadians were aware of what this small ship had achieved since departing Vancouver in June 1940. The eight-member crew of the 104-foot St. Roch, under the command of Sergeant (later Superintendent) Henry Larsen had completed the first west to east transit of the fabled Northwest Passage (NWP). It was a remarkable achievement: a story of how the St. Roch had spent two winters frozen in ice and how the persevering Larsen and his crew had overcome the worst ice conditions in years to finally reach Canada's WW11 'East Coast Port.' It would not be the first or last of such achievements for the St. Roch launched at North Vancouver in 1928. Over the years the ship's contributions to Arctic exploration and northern development have captured the hearts and minds of seafaring Nova Scotians and Canadians everywhere."
Link to Len Canfield document
https://rusi-ns.ca/wp-content/uploads/2017/10/St-Roch-Book2.pdf
Recordings link, of particular interest is Henry Larsen the Commander
https://stroch.net/audio/