The problem is fixed by "cutting" the garboard plank to fit the hull.
lets take a look at how the shipwright solved the problem a look at a hull you can see at the stern the garboard and bottom planks flare out the bottom yellow arrow is the lower edge of the garboard against the keel and the next yellow arrow up it the top edge of the garboard. The next two bottom planks the flare gets less the higher up the stern post. The gap that occurs is filled in by the shape of the plank and the run of the plank will follow the hull.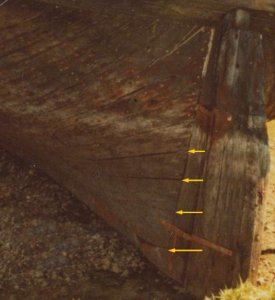 this picture gives you a better example of the flare of the bottom planks. It is this flare at the ends that allow the bottom planks to take a natural curve.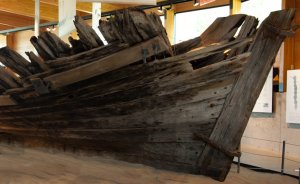 looking at the bow of the garboard the end is called the "hood" and it fills the lower space created by the natural upper sweep of the garboard plank.
The next plank up is the bottom plank and it also has a flare. The planks in the blue arrow part notice are much narrower this is because the next belt of planking has to conserve space along the stem or you will end up with a gap at midship and no room for the ends of the planks at the stem.