Moderator
Staff member
Moderator
Sponsor
Joined

Dec 1, 2016
Messages

1,906
Points

528

I cut a set of stern blocks out of Basswood and not the sign board because the Basswood is a little harder and takes more effort to shape. If I used sign board it only take the slightest slip to make a big mistake.
Sterns are tricky because that is where all the curves of the hull come to a meeting point and keeping everything level, square and the same on both sides. Personally I work from the bottom up because if your starting level all the upper works which set on the lower section will also be level. That straight line at the transom actually has a curve to it. I am making it straight and level as a nothing more that a reference point. I can measure down to where the lower transom meets the hull planking. On the right is a cardboard template that is the final shape of the stern taken from the plans. I flip this template from side to side to make sure both sides of the hull end up the same.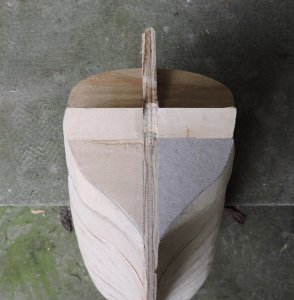 another little modification to the original I cut off the profile piece at the last bulkhead, it was in the way of the new window setup. Plus depending on that narrow point of contact between the stern piece and the edge of the profile piece was not all that great a reference point, it was more of a pivot point. I added side blocks. The hole cut into the stern or should I sat "hacked" in is bigger than the windows. The final windows and frames will be build separate and placed into the hole when I plank the stern.