Administrative
Staff member
Administrative
Moderator
Blandford Group Build
Joined

Dec 25, 2017
Messages

11,738
Points

928

Location
Hallo John,
very good idea with the additional chocks along the outside at the end of the frames. I am pretty sure, that, if the chocks are strongly fixed with the frames, you will have a stabile and stiff connection between the frames. But you will have "only" three connections with keel and the chocks on both sides at the end of the frames.
(red arrows)
With this the frames can slightly move during sanding, because of some torsion (green arrows)
I will try with the original idea by the kit producer, with these temporary spacers - As I understood it correctly, these small strips laying on top of the jigs in three levels, should be glued between the frames in order to get the frames of the section rigid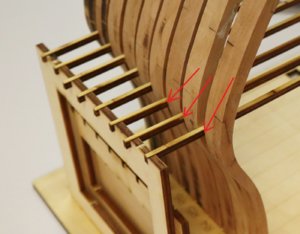 Maybe you should combine your chock with these three levels or maybe one...