Hi, I have just started the Amerigo Vespucci, 1:84 scale from a Panart kit I'll show my progress here so that you can see someone else struggle through a build as I'm sure many ordinary modellers do. I bought the kit off Ebay for a good price, it is an early version about 20 – 25 years old and differs quite a bit from their current version, I think for the better. Lime for first planking, not balsa, etched sheet brass for the plating not ply, planked deck instead of printed ply and 12 sheets of plans many 1:1, but poor badly translated instructions instead of the step by step guide.
Although old everything was in very good condition, straight keel and bulwarks, which were very well laser cut, matching the plans perfectly, the strip wood is very nice, straight cleanly cut and still flexible enough although has hardened quite a bit. There are hundreds of castings and machined brass fittings all nicely bagged, these will need a serious cleaning as they have become badly tarnished. A very comprehensive and well presented kit.
I admire many of the builders on this site for their skill, painstaking dedication to detail and accuracy but I'm afraid that's not me. My build will be as simple as I can make it, mostly straight from the box with just enough detail to make it a nice looking well made model that will not take me years, with the chance of getting fed up and abandoning it as I see happening on quite a few of the larger builds, I WILL finish it.
I wanted to start the build by first preparing the mounting. I want to mount it on brass pedestals on a large mahogany plinth so needed to do the preparation for this prior to planking rather than risk damaging the model at a later stage by turning it upside down. My first problem is that due to the lack of availability of stuff due to the Covid restrictions I can't get anything, the wood yards are closed and even popular online modelling suppliers have run out of anything I want, glues, sealers wood strip and my plinths
I started by joining together the three sections of keel, I reinforced the joins then beefed up the area where the pedestals will be fixed with rods, I drilled them out and hope that they line up later.
I dry fitted the bulkheads, they only needed the lightest of sanding before becoming a perfect fit. I made up a keel support out of scrap, not very neat looking but works well enough. I have now glued all the bulkheads into place, no issues so far, I've now started my journey, please join me.
Ken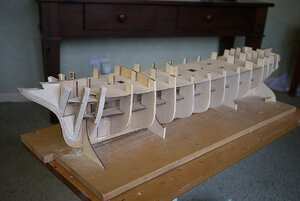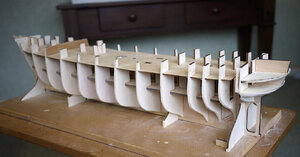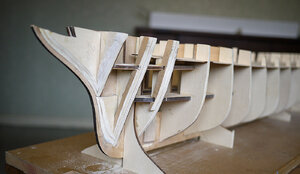 Last edited: