Joined

Aug 25, 2017
Messages

312
Points

113
Location
Thanks Paul, I agree Caldercraft do very good rigging instructions.
Continuing on with the planking, the next 5 planks are already tapered but they are thicker than the none tapered planks. Before soaking the first tapered plank I decided to file the top edge so that it fitted against the previously fitted plank. It was soaked in boiling water and then pinned in place, I "borrowed" my Daughter's hair dryer to dry them, but I still had to soak them again before I glued them in place. The next couple of planks were a bit of a problem because I couldn't get both ends to finish on a Bulkhead so I ended up with a few small gaps. The finished Hull should be painted so it won't matter if I have to use some filler, but I am thinking about putting a second layer of planks on using some 0.5mm thick planks that I have. It would be nice to be able to see each plank even if it is painted.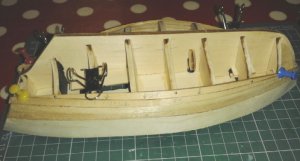 Once I had fitted all the tapered planks it was back to fitting the untapered planks. I couldn't get the next plank to fit against the plank above it so I decided to leave a gap, let the plank follow it's natural run and then fill the gap in later. I also started the next 2 planks from the second Bulkhead back, I figured it would be easier to fit shorter planks that needed some tapering at one end.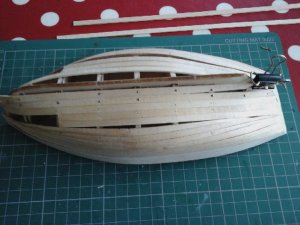 Cheers Andy
Last edited: