Staff member
Bluenose Moderator
Joined

Jan 9, 2020
Messages

2,211
Points

538

Dear All
Trepidation is not the word, but the kind requests of Uwek, Nigel, Jimsky, Don and Zoccane have prompted me to start a build log on my Chinese Sampan.
The kit arrived this morning and my first impressions are positive. The wood (a combination of Pear, Cherry, American Walnut and Laminates) looks to be of good quality and the laser cuttings very accurate. As a test I have removed one or two of the bulkheads and the parts that make up the "keel stringers" (for want of a better word - there is no keel on the flat-bottomed Sampan). The bulkheads came away easily from their sheets with the minimum of chaff, but the laminated keel stringers are very fragile and required great care.
The parts are clearly marked and identifying everything seems to be realtively straightforward. The 9-page instruction manual is only in Chinese, but luckily my students can translate the text for me into English, if need be. In addition, there is also a comprehensive set of step-by-step photographs which should help a lot. I am waiting for my Titebond to arrive so there is not much I can do other than to get a "feel" for the kit and try to familiarise myself with the build sequence. I have included a few pics to show what the kit looks like.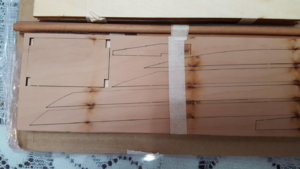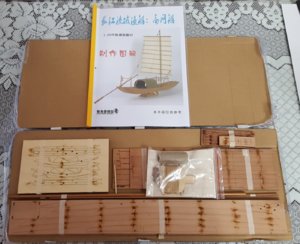 Thank you so much for your interest in the Sampan - it is sincerely appreciated.