WHAM! BAM! ok all the frames are drawn from stem to stern except for the 1/2 cant frames at the bow and the stern those I will do a different way.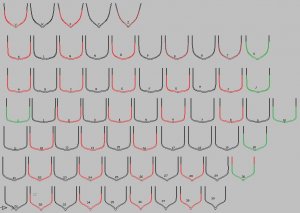 G'day Dave
I have read this log again. It's so informative and sometimes easy to read, but not too easy to digest for a person like me, CAD ignorant!
Dave, I don't know you doit mate to make all of these frames so quickly. How many hours have you done so far on the drawings?
Happymodeling
Greg
I can't give you a time because CAD does not keep time on the drawing only how long the file is open. What I do when I am working on a drawing is to keep the cad file open when I finish I just put the computer in sleep mode. I work on a file in short work sessions. Like when I am making dinner and waiting for something to cook I will sit down and draw a frame or two and I do this all day. So far the Mississippi file started May 22 and I finished the frames today that is a total time of 40 days 8 hours and 31 minutes. The actual time I spent drawing is about 22 hours.
The Mississippi frames were easy to draw because they are straight sides and bottom the only real curves involved is at the turn of the bilge.
Now take a hull like this one with all the complex curves this would take me twice as long if not longer.
I have been using CAD for over 30 years so I know the program up down and sideways and a lot of quick tricks which helps with speed.