Joined

Aug 11, 2017
Messages

47
Points

78

Location
Put bulkhead paneling on, I had some on earlier so I had to do a few repairs.
Almost there, put a few pieces in the bottom of the gun ports then sand and paint.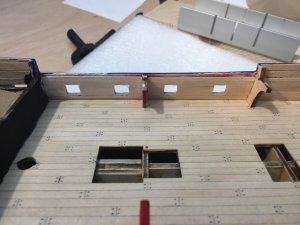 I was using Cadmium red, didn't like so sanded down (the is the Cadmium red) and using Cadmium free red.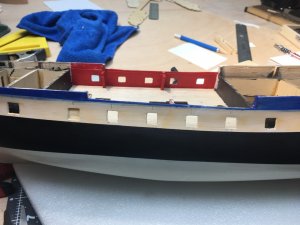 The Cadmium free paint (finished the port yellow as well), need to sand and do a few more layers.
Started to do gun ports sills. I fill in visible defects with a bit of glue and will do the touch up paint (gotta put the #0 and #1 paint bush to work). The aft cabin window is in. My chopping station is in the pic, just used and old miter box mounted so some wood and a blade. After all sills are in, then I will put on a layer of black and then the tallow. After that, gotta be more careful when handling. I will put on a base, and on a swivel.