Administrator
Staff member
Administrator
Joined

Dec 25, 2017
Messages

18,428
Points

938

Location
Like mentioned in another post I just received yesterday the test kit from Trident Models - Many Thanks for this
Today I will show the first impressions of the kit during the unboxing - The detailed Kit Review will follow
The kit is boxed in a brown sturdy box
- with the printed logo of
TRIDENT MODELS
and their slogan
"Born for the Limit - Live for the Challenge"
- I like the slogan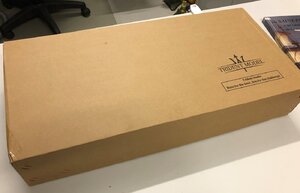 Opening the box we can see the content - everything warped in folio and protected with bubble wrap - the manual and drawing is also bagged
All separate bundles in one overview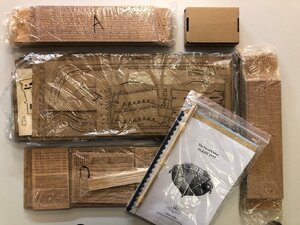 The first bundle separated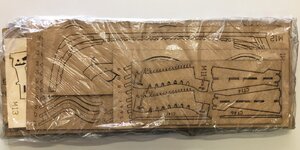 and the sheets of this bundle - do not be surprised -> these eleven sheets are all for the temporary jigs and shall help the installations and fitting of the parts
the next ten sheets with frame elements and keel
eleven more sheets with knees, pumps, beams, gun carriages etc.
ten more sheets
the smaller inner box with all the fittings
and the overview of the content - four small wooden sheets and twenty small bags with mainly white alloy parts (I like the two figurines very much) and a rope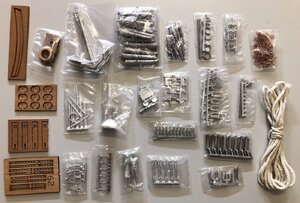 The english manual, one drawing sheet, a brown color sheet and a small bundle of wooden and brass rods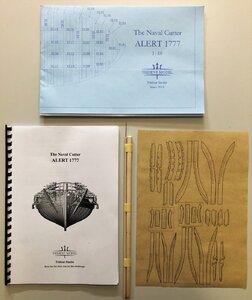 The first impression is very good, quality material and documentation.
Impressive number of wooden sheets of different thicknesses - and especially a very impressive number of sheets for the installation jig - A good sign, that the Trident wants to help the modeler - A Manufacturer who is thinking like and for the modeler - GREAT
I have the feeling, that this kit will bring us a lot of fun, full of new construction methods and maybe also surprises - and I think mainly positive ones.
Please have in mind, that the "cabin upgrade kit" shown by Trident in the following post is not part of the test kit I received, but will be
exclusively
included in the kits for SOS members
when they order the kit. In my kit it is not included, simply it was not finished when my kit was send...... so I will show in a later stage, when I received it.
A few days ago I was thinking, maybe I should buy this kit and join the group build. Now that I have read this whole thread and seen all the pictures there is no maybe in my mind anymore, I definitely will. It looks fantastic Thumbsup Cheers Poul
A detailed
Kit and Content Review
will follow here in our forum asap
Last edited: